Croatia, a country rich in history, culture, nature, and cuisine. However, this isn't your average travel guide. We're turning up the heat! We created the party itinerary of your dreams, the 4 best party destinations in Croatia. When you have finished reading our list, you'll be booking your next sailing holiday in no time. We will start from the top, literally, and sail our way south. Now, get on board! First stop: Rab.
The 4 Best Party Destinations in Croatia
4. Party Destinations: Rab
First, we're bringing you to Rab. This tiny island is a short distance away from the city, Pula, with plenty of sailing routes to choose from. It is there that you can board your boat and begin this epic journey. Rab is continuously gaining momentum in the Croatian party scene. Also known for its beautiful nature, Rab is now booming with beach parties and nightclubs.
Nightlife to experience on island Rab:
Santos Beach Club – experience live music, go-go dancers, all night fun. During the day the club doubles as a beach hangout for sunbathers and volleyball enthusiasts.
San Antonio Nightclub – enjoy this place during the day as a cafe bar or at nightclub after dark. Here you can enjoy summer special parties, fashion shows and live music performances. The club is situated by the main marina.
3. Party Destinations: Pag
Next up, Pag. The island is just south from Rab and sailing distance from Zadar. It is here you will find 'Croatia's Ibiza'. The popular beach party destination has plenty of clubs and nightlife activities to choose from.
Nightlife on beach Zrce (island Pag):
Aquarius – one of the hot spots to visit when planning to party in Croatia. Here you can party during the day-time and night-time as well as enjoying festivals such as The Sonus Festival.
Papaya Club – one of the oldest and biggest clubs on the island of Pag. It is an open-air club near the beach, being in the top 100 best clubs in the world.
Kalypso – starting as a beach bar, now the place represents a club with a huge open-air dancefloor and different levels with several bars. This place offers unique experiences during the day or the night. It is the perfect choice for summer party lovers.
Noa Beach Club – this special club has been built over the seashore and offers an outstanding view over the sea and the mountain landscapes. This place promises unforgettable parties and lots of activities.
The Nomad Club – this club opened in 2019 and promises a relaxed atmosphere with deep house/ tropical house music as the main characteristic.
So, get ready to dance the night away. You will not want to miss a night (or two) in Pag.
2. Party Destinations: Split
Then, rent a boat in Split. The largest city in Dalmatia does not disappoint when it comes to throwing some of the biggest parties. Three words: Ultra Music Festival. Need we say more? This city was destined to be on our guide for party destinations. Thousands of partygoers make their yearly pilgrimage to Split for this world renown festival. However, the city doesn't sleep and there is always a party planned. Once the sun sets and night has fallen, head to the most popular late night spots such as:
The Hemingway Bar – Croatia's longest bar and an unbeatable beachside venture where the party goes on night long.
The Masters Club – has become an institution known for its range of party music to the unbeatable clubbing atmosphere.
1. Party Destinations: Hvar
Last, but certainly not least we arrive at our final and most southern destination on our list, Hvar. This is definitely the number 1 party destination in Croatia. Fun fact: Hvar is Croatia's sunniest island. This could very well be the reason the energy and vibe are always energetic. By the time golden hour hits, you'll be ready to sip your first drink and start your evening. You'll want to make a stop at:
Carpe Diem – this beachy oasis is a must for all. Drink and dance the night away with DJs, a swimming pool, tropical cocktails and more!
Veneranda Club – located in an ancient Venetian fortress with another swimming pool, open-air cinema, and music that plays all night long.
When visiting Hvar it's almost as if the party finds you! Charter a yacht in Hvar and explore the beautiful secret spots.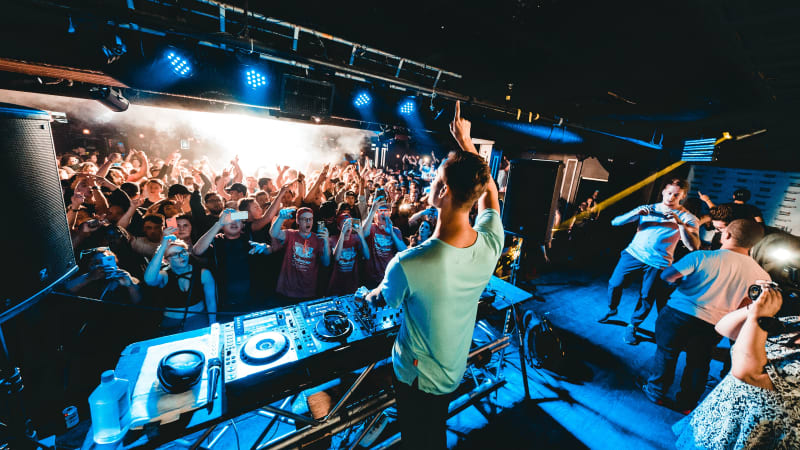 When booking a boat holiday with Zizoo, the fun will find you. Whether you're on a mission to find the best party destinations in Croatia or soak up the sun there is something for everyone. Our contact our holiday planners who will be happy to customise your itinerary or you can check out our most popular sailing routes. And as always, happy sailing.