What is your ideal destination for a romantic escape? Is it discovering historic towns and villages? Wine tasting in sun-drenched vineyards? Relaxing on white sandy beaches? Or do you prefer exploring landscapes of towering cliffs and green volcanic mountains? Whether you are looking for adventure or a place to relax and unwind, a week spent in one of these sailing destinations will make for the perfect romantic getaway.
The Best Sailing Destinations in the World for Romantic Getaways
Phuket, Thailand
Phuket has it all: gorgeous landscapes, serene beaches, luxurious resorts right on the beach, stunning places to bring out the adventurer in you, scrumptious food for your taste buds, mind-blowing fun through all night rocking parties. You name it, Phuket has it. Book a boat in Phuket with Zizoo.
Some of the most romantic activities you can indulge in while in Phuket include going for a walk on Mai Khao Beach, which is a part of Sirinath National Park and stretches with its white sands for 11km.
Take a trip to the internationally renowned Phi Phi island (or Koh Phi Phi). From nearby Chalong Bay, you can take a local speed boat to the islands, where you can enjoy snorkelling and scuba diving.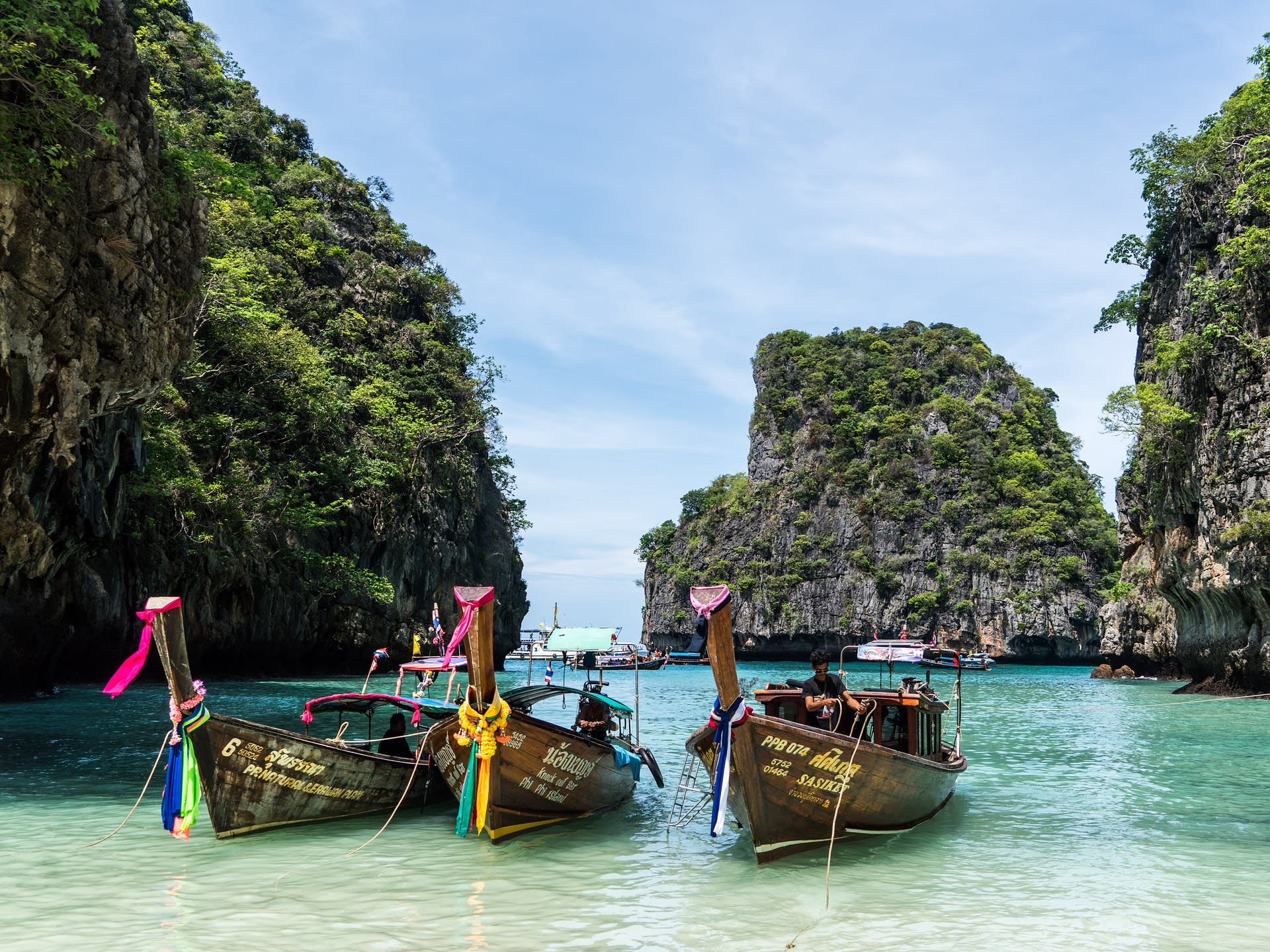 Sibenik, Croatia
Sibenik is the ideal location for a romantic getaway. For lovebirds who want to escape the tourist hot spots and reconnect in a gorgeous seaside village full of Croatian characters, Sibenik is the place for you.
Sibenik is situated on the north Dalmatian coast, about 80km north of Split. The city centre sits deep inside a stunning, naturally protected bay where the Adriatic Sea and Krka River meet, allowing you to cruise in and navigate every inch of calm water surrounding this serene Croatian holiday hotspot. Sibenik has an excellent marina and a charming old town, and you'll no doubt lose yourselves among the romantic Renaissance-era alleyways and gorgeous architecture.
Stop for lunch in the beautiful hidden garden of St. Laurence's Monastery, and stroll along Sibenik's riva under the soft glow of the street lamps. Explore ancient plazas filled with charming cafes, restaurants and bars. Head to Pelegrini for a candlelit dinner overlooking the St. James Cathedral. In Sibenik, you'll experience immediate relaxation and romance as you sail through the gorgeous islands of the Kornati National Park.
Tuck yourselves away in hidden bays and enjoy stunning beaches all to yourself. Then, cruise down to the island of Vis, one of Croatia's most secluded and romantic islands, where you can visit local vineyards and indulge in fresh seafood dinners by the sea.
Bora Bora
If you've ever seen the 2009 rom-com Couples Retreat, starring Vince Vaughn and Dana Cox, you'd know what we're talking about. Nestled just northwest of Tahiti, less than an hour away by plane from Papeete, Bora Bora is the definition of romance. The Sofitel Bora Bora Private Island is found on a small botanical garden surrounded by the ocean. The inevitable love affair with this island will begin the second you set foot on it.
Amalfi Coast, Italy
The Amalfi Coast is one of the world's most impressive and alluring destinations. You just can not help but feel glamorous while cruising along the Amalfi Coast in a classic sailing yacht or sporty speedboat. The views of the colourful Italian seafront towns and cliffside vineyards will surely take your breath away. Discover the famous island of Capri and the famous Blue Grotto, savour divine dishes of fresh fish and pasta and end every meal with a chilled glass of limoncello with your loved one while on your dream boat holiday in Italy.
Sitting to the south of Naples, this picturesque dreamscape attracts artists, film stars and loved-up travellers looking for romance. Explore the UNESCO World Heritage villages scattered along the coast; enjoy cliff top views, Michelin-starred restaurants and hillsides covered in citrus trees, olives groves and vineyards.
Fly into Naples and venture down to Castellammare di Stabia, Sorrento, Positano, Praiano, Amalfi and then Salerno. The small villages and sandy beaches attract tourists from all over the world, but on your own private yacht you'll have the freedom to explore the entire coastline at your leisure.
Cruising along the Amalfi coastline on a gorgeous yacht with the wind in your hair is the ultimate romantic experience.
The Caribbean
Any list of romantic sailing destinations is not complete without the Caribbean. The group of islands (there are around 700 of them) boasts some of the most beautiful scenery on the planet. It may seem overwhelming to start picking from the numerous resorts and smaller locations available across the Caribbean at first. Here are a few of our top Caribbean destination choices when it comes to romance:
Jumby Bay Resort is a private island/paradise only accessible by boat. It's located just off Antigua. With nine kilometres of pristine shoreline, Jumby Bay presides over some of the most spectacular beaches in the Caribbean.
Peter Island Resort and Spa is hidden away on an 1,800-acre oasis of tranquility. The resort has its own marina, so if you're island-hopping the Caribbean islands, the resort should definitely find its way on your itinerary. The marina is located in Sprat Bay, across Drake's Channel from Road Town, Tortola.
One&Only Ocean Club is located on the tranquil shores of Paradise Island, Bahamas. Inspired by the castle Versailles, the resort's gardens roll down to the sea where soft trade winds ripple across the balmy azure waters. If you are a beach lover (and who isn't) you won't be disappointed: Have a look at their Instagram account for a taste of what the resort has to offer.
Remember you can book your private yacht in the British Virgin Islands for a romantic getaway with Zizoo. Explore the Caribbean by boat.
Martinique, Caribbean
If you're dreaming of palm trees, romantic sunsets, hiking in green, forested mountains and swimming in warm, turquoise waters, then a boat holiday in Martinique is the right choice for you. The Caribbean island of Martinique is a paradise both onshore and offshore, offering activities for every type of couple: discover the island's diverse history, visit a flower-filled pineapple plantation or go hiking around an active volcano. After a relaxing day on Martinique's stunning beaches, you can crack open a bottle of bubbly. Martinique is in fact, one of the biggest consumers of champagne. You and your partner will love the freedom of discovering the island's coast at your own heart's desire on your chartered yacht in Martinique.
Pula, Croatia
Located on the picturesque coast of Istria in northern Croatia, the ancient city of Pula is a wonderful starting point for a romantic boat trip in the Adriatic. While the city itself makes for a perfect getaway, it's the nearby islands and beaches that really make this destination stand out. After visiting the fantastically preserved 6th century Roman ampitheatre and savouring some of the region's specialities like truffles and fresh seafood, it's time to explore the islands in the Kvarner Gulf. Stop in the charming seaside towns found around Cres, Lošinj and Krk where you'll also find some of the most beautiful beaches in Croatia or travel further south to the island of Pag, a foodie's paradise.
Learn more about sailing in Pula with our guide and try some of these luxury foods while on your boat holiday in Croatia.
Grimaud, France
Perched on a hill overlooking the Gulf of St Tropez you'll find the romantic ruins of Grimaud's castle. The medieval village of Grimaud is the ideal destination for romance. Not far from the bustling seaside town of St Tropez, Grimaud serves as a peaceful oasis where you'll find yourself transported back in time. Enjoy a relaxing stroll and take in the views of the sea in the hilltop town with your loved one before checking into your yacht charter in Port Grimaud, a quaint seaside town which was founded only a few decades ago. Port Grimaud has a "Venice-esque" appeal with colourful houses, charming bridges and enchanting canals. From Port Grimaud, you can enjoy your own private tour of the French Riviera by boat while stopping for a swim and to visit the picturesque villages of Côte d'Azur.
Budva, Montenegro
Montenegro is a top pick for this year's hottest sailing destinations. Stretching 21 km and boasting a number of lovely pebble stone and sandy beaches, the coast of Budva in Montenegro is a dream destination for couples. Still under the radar, the ancient town of Budva offers incredible views of the Adriatic and is home to several cultural treasures that are worth discovering while on land. Charter a yacht in Montenegro and enjoy a relaxing cruise along the Budva Riviera, making stops at some of the most beautiful beaches in the Mediterranean such as those found around Sveti Stefan and Petrovac.
Alacati, Turkey
Not only is Alacati one of the most romantic destinations on the Turkish coast, it's also one of the coolest. Alacati sits on the Cesme Peninsula, and is undoubtedly one of the most unspoilt and idyllic destinations on the Aegean Sea.
The centre of this seaside village is made up of charming whitewashed houses with blue shutters and floral trimmings, and chic cafes, boutique hotels and stylish stores line the streets.
The beautiful Alacati marina is full of luxury yachts all summer, and romance floats through the air.
Alacati's relaxing vibe and friendly locals will have you falling in love all over again. The beaches are close to perfect, with a mix of private beach bars and secluded coves.
Alacati is not only a romantic paradise, but a foodie heaven. Restaurants such as Agrilla, Asma Yapragi and Yengec create gastronomic masterpieces from produce grown by the locals; they purchase the freshest supplies at the Alacati markets where you, too, can shop and create your own inspiring Turkish cuisine from the luxury of your own private boat. Pair this fantastic local fare with a trip to some of Alacati's gorgeous vineyards for a romantic holiday you'll never forget.
Cote d'Azur, France
When Brigitte Bardot made her way to St Tropez in the '50s, she had no idea how quickly she would solidify this small fishing town as one of the most romantic destinations in the world. Today, millions of visitors head to the Cote d'Azur each summer in search of crystal clear water, white sandy beaches and pure romance.
Super yachts sit side by side in the ports of the Cote d'Azur, and travellers flock from all over the world to catch a glimpse of beautiful celebrities strolling along beautiful beaches. But there is so much more to the Cote d'Azur than just glitz and glamour. Quaint cobbled alleyways, boutique cafes, and secluded bays and coves are just waiting to be discovered.
The combination of old-world glamour and dazzling Mediterranean beaches make the Cote d'Azur a passionate paradise and an irresistible sailing destination.
Find out more about sailing in the Cote d'Azure.
Barcelona, Spain
As a romantic getaway destination, Barcelona has a lot to tempt holidaymakers. The museums, the incredible architecture, the delicious food and breathtaking coastline will romance you into a holiday daze.
The Spanish coastline is arguably one of the most romantic and untouched stretches of coast in Europe.
Barcelona's winding streets, charming plazas and fantastic bars and restaurants create the perfect setting for a romantic escape. Take a hot air balloon ride or head to the opera. Stroll along secluded beaches and sail up and down a stunning coastline. Dine under the stars and feast on delicious tapas and sweet sangria.
What could be more romantic than sailing through the azure waters of the Mediterranean with a glass of champagne in hand? Admire the city's famous skyline and cuddle up with your loved one in front of a glorious orange sunset.
Portisco, Italy
The Italian island of Sardinia boasts some of the most gorgeous beaches in the world (just look at Sardegna Reporter's Instagram). Sardinia's stunning coastline is enhanced by a mesmerising mix of vibrant blues and cyan blue waters and the island's intriguing rock formations that were shaped by the wind. The winds that blow throughout the island also make Sardinia a fantastic sailing destination. Charter a yacht in Portisco and sail along Sardinia's famous Costa Smeralda. Sail around the alluring island chain of La Maddalena or mingle among the rich in famous in the legendary Porto Cervo. For more reasons to set sail in Sardinia, check out our guide and for more inspiration, take a look at our food and wine lover's sailing route featuring gastronomic tours from the winerist.
Hjellestad, Norway
For something a bit different, plan a romantic getaway in 2017 in Norway, one of our favourite sailing destinations in northern Europe. Explore the magnificent fjords from a yacht charter in Hjellestad, just south of Bergen- the gateway to the fjords. A private cruise of Norway's fjords, quaint seaside towns and enchanting islands and islets is the prefect way to spend a week or two this summer with your loved one. Enjoy being on the water, go hiking in the mountains or try fresh seafood in one of Bergen's charming fishing villages.
Plan the perfect romantic getaway with Zizoo. Whether you are seasoned sailor or if it's your first time planning a boat holiday, we'll help you every step of the way. For more inspiration, take a look at our Sailing Destination Guides and keep up to date with the latest trends in sailing with our Magazine.