With the opening of the London Boat Show on January 10th, Europe kicked off another great year of boat shows in 2018. If you're like us and are just counting down the days until summer when you can set sail under the warm sun, a visit to a boat show this winter might be of interest to you. With so many boating and yachting events happening around the world, you might not know where to go so we rounded up six of the best boat shows in 2018 to visit. Check them out below:
6 Boat Shows in 2018 to Visit
London Boat ShowRecommended boats

Motor boat Ferretti 450 (2020)

sentiment_satisfied_alt

Optional skipper

Sailboat Bavaria C57 (2018)

sentiment_satisfied_alt

Optional skipper
The 2018 London Boat Show is taking place now and is said to be bigger than ever. Now known as the Boating & Watersports Holiday Show, this is an event not to be missed by sailors and watersports enthusiasts who want to experience some of the newest boating trends and models on the market. Some of this year's new attractions include a champagne bar, an indoor beach where you can sink your toes into the sand and a stage where some of today's most respected sailors will tell their stories of the sea.
London Boat Show | 10-14 January 2018 | London, England
Recommended boats
https://www.londonboatshow.com/
Boot Dusseldorf
boot Düsseldorf is Germany's main boating event. Though it may be the middle of winter in the western German city of Düsseldorf, it's all about summer and adventures inside one of the best boat shows in 2018. Not only will you have a chance to see the this year's most anticipated motor boats and sailing yachts revealed, but can also check out some of the latest maritime gadgets, test out dinghies, go wakeboarding, diving and even paddle down the fair's indoor creek on a SUP. This year marks boot Düsseldorf's 49th year. Don't miss it! (20-28 Januay).
boot Düsseldorf | 20-28 January 2018 | Düsseldorf, Germany
Recommended boats
https://www.boat-duesseldorf.com/
Dubai International Boat Show
If you are into more glitz and glamour, why not make a trip to Dubai to attend one of the world's most luxuriant boat shows in 2018? The Dubai International Boat Show takes place from 27 February until 3 March 2018. Discover some of latest trends in nautical sports and tourism, including motorized surfboards and the first personal amphibious craft on the market. The Dubai Boat Show is also a popular place to buy the newest yacht models, jetskis, nautical gear and even submarines.
Dubai International Boat Show | 27 February – 3 March 2018 | Dubai, UAE
Recommended boats
Monaco Yacht Show
Want to mingle with the rich and famous? Don't miss a chance to attend the Monaco Yacht Show this summer. Hosted in one of the world's most iconic harbours, the Monaco Yacht Show will feature over 100 super yachts built by premier shipbuilders. Yacht enthusiasts flock to this world-class event to get a glimpse of the newest super yachts, sip on some bubbly and admire the show's exhibition of prestige cars. You might even be tempted to buy a high-end water toy or the newest sailing gear to take aboard your next charter yacht.
Monaco Yacht Show | 26 – 29 September 2018 | Port Hercule, Monaco
Recommended boats
http://www.monacoyachtshow.com/en/
Annapolis Boat Show
The historic port of Annapolis first welcomed sailors from abroad over 300 years ago. Nowadays, the coastal city continues to attract boating enthusiasts who come for one of the many boat shows that take place in Annapolis throughout the year. The US Sailboat Show was the country's first in-water sailboat show, which took place in 1970. Hosted every autumn, the US Sailboat Show offers sailors a chance to demo sailing yachts, check out some of the newest catamarans on the market and even set sail on a 74-foot Schooner Woodwind.
United States Sailboat Show | 4 – 8 October 2018 | Annapolis, Maryland
Recommended boats
https://www.annapolisboatshows.com/
Fort Lauderdale International Boat Show
Taking place in the "Yachting Capital of the World", the 59th Fort Lauderdale International Boat Show (31 October – 4 November) will be one of this year's main highlights. Said to be the "largest in-water boat show on earth", the Fort Lauderdale Boat Show will give you a chance to get inside some incredible private superyachts (with a purchase of a special VIP Package). Even if you don't get the VIP package, you can feel still fabulous at the show's floating cocktail lounge.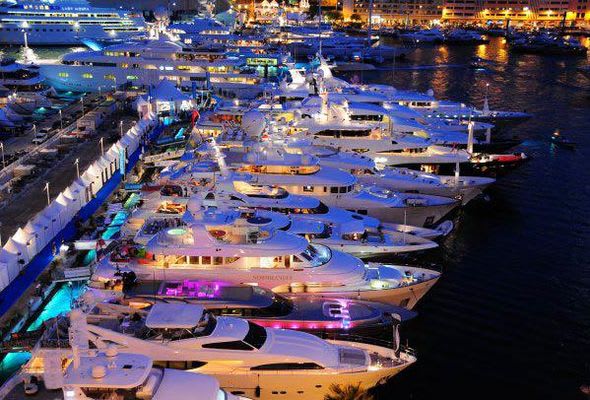 Fort Lauderdale International Boat Show | 31 October – 4 November | Fort Lauderdale, Florida
Recommended boats
https://www.flibs.com/en/home.html
We hope a visit to one of these boat shows in 2018 will help hold you over until the summer comes. If not, you can always take a look at some of our winter sailing destinations and plan a dream holiday at sea. For more tips on what to do this winter, take a look at this post by our guest blogger Louise Kennedy of Sandy Toes and Writer Woes.