This week we're introducing a post by Louise Amy Kennedy – aka the human behind the voice of Bailey Boat Cat. Bailey Boat Cat is a successful blog-turned-book about the adventures of Bailey, a cat who lives with Louise on her boat in Rome. She's currently studying for a Masters in Professional Writing with dreams of cruising full-time in the future. You can read more from Louise on her new blog Sandy Toes and Writer Woes or follow her on Instagram. Read Louise's post on everything you need to know if you want to go sailing with your pet. Remember to have a look on our website for the latest sailing holiday offers.
The three BIG boat cat questions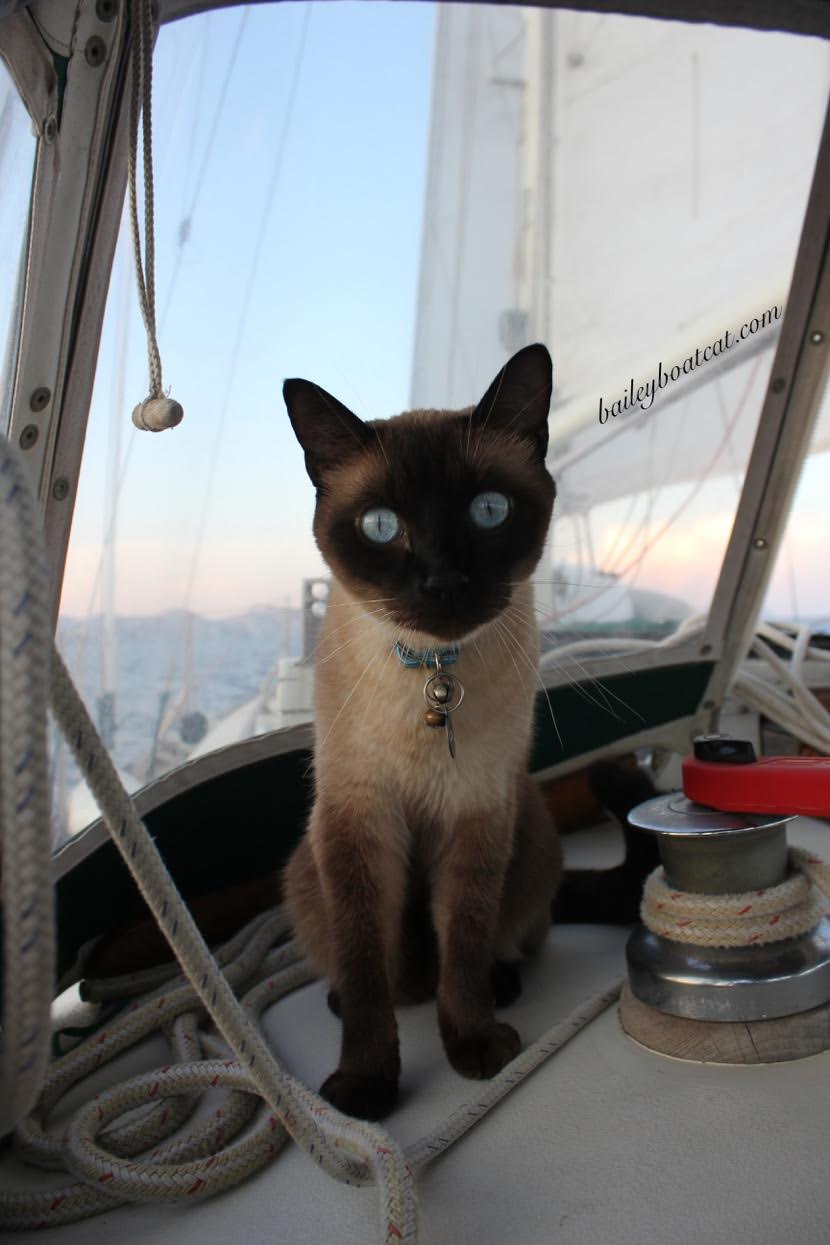 Cabin cat or roaming freely?
This is a very personal and divisive subject. Some people feel it's not fair to keep a cat inside. However, there are always risks for an outdoor cat; cars, other animals, getting trapped somewhere or getting lost are just a few. For boat cats the biggest risk is the water. Not everybody wants a cat on their boat either and if yours invites itself onto the wrong boat you might end up in trouble.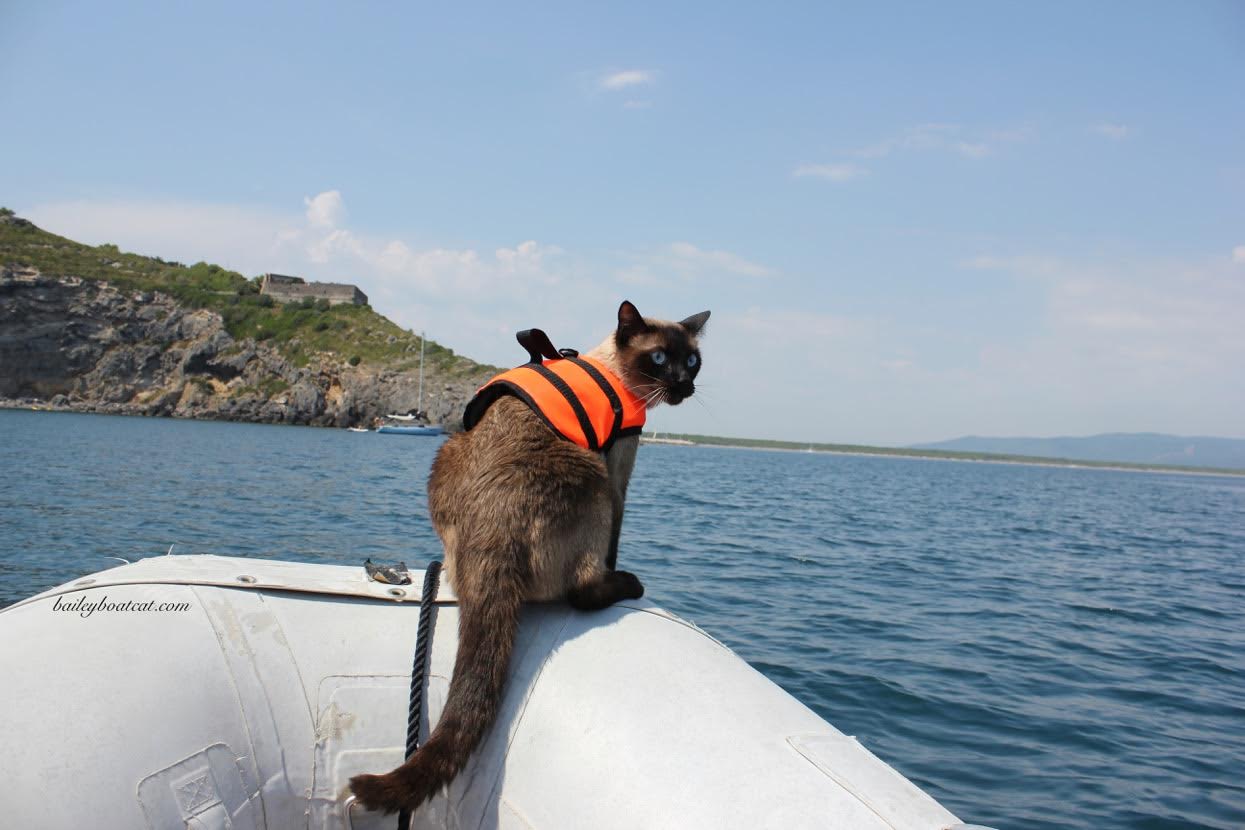 I've seen successful examples of free roaming boat cats. We've met plenty of liveaboards who allow their cats freedom to come and go as they please. In some marinas with floating pontoons, the boat cats are even able to claw, jump or pull themselves out of the water if they need to. We've also met cruising cats that instantly hop off and explore their new surroundings at each destination. I've asked people if they're worried about their cats getting lost and most of them say that their cat doesn't stray very far and some even have GPS devices on their cats so they can locate them if they need to leave.

Our cat, Bailey, first started sailing at the age of 10 months old, but he didn't move aboard full-time until he was two. He's always been an indoor cat and he adjusted well to life afloat. If we're out sailing or on anchor we give him the freedom to run around on the deck when he wants to. The boat has really enriched his life, he loves watching the birds, fish and of course dolphins. He's reluctantly practiced his cat overboard drill and the few instances where he's fallen into the water on anchor we've always heard the splash and been able to help fish him out of the water anyway. (We store a heavy duty net on the deck.)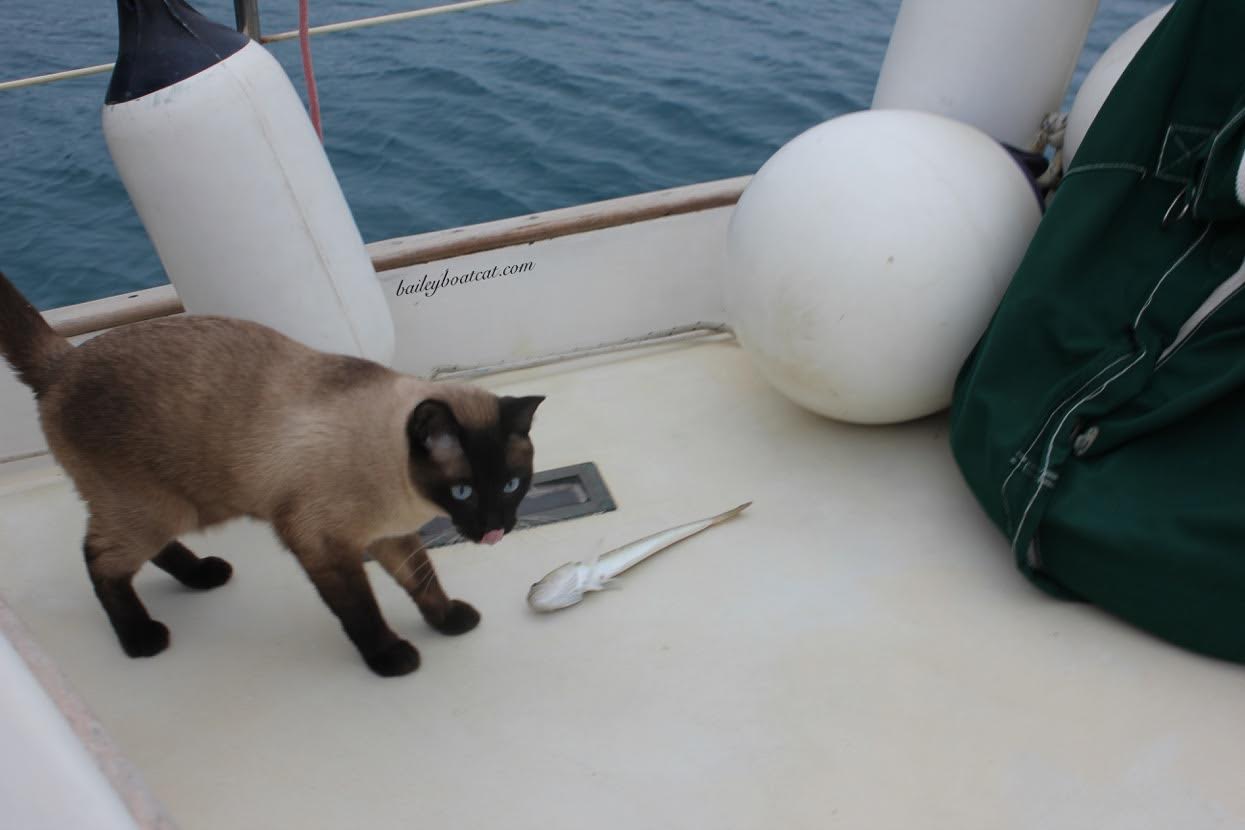 To keep Bailey happy we frequently walk him with his harness and lead. He loves exploring and the attention that he gets. We choose to supervise him on land because we've had a few instances where he's got inside boats that were closed apart from one porthole and on one occasion we found him hanging off the transom of a boat at the end of the pontoon calling for help. (In our marina there's no way for him to get out of the water on his own.)
Ultimately you need to consider your cat, your lifestyle, and your environment before you decide whether to keep your cat indoors or not.
What about the toilet?
Again there are many options to keep your cat and the other crew members happy. Bailey has a litter 'house' that we fill with cat litter. It's wedged underneath our navigation table so even in rough seas it doesn't move and the lid of the box keeps all of the litter inside. Bailey likes to dig before and after he's done his business, so this setup suits him. The other positive aspect of our method is that the box contains most of the smell. Of course there are also some negatives, mainly having to bring bags of litter to the boat, often having to sweep up any litter that he tracks out of the tray and the loss of foot space under the table.

The alternative for using cat litter is using some sort of fake grass with something absorbent underneath. This method eliminates the need for cat litter however you will need to wash the grass fairly frequently to stop it smelling.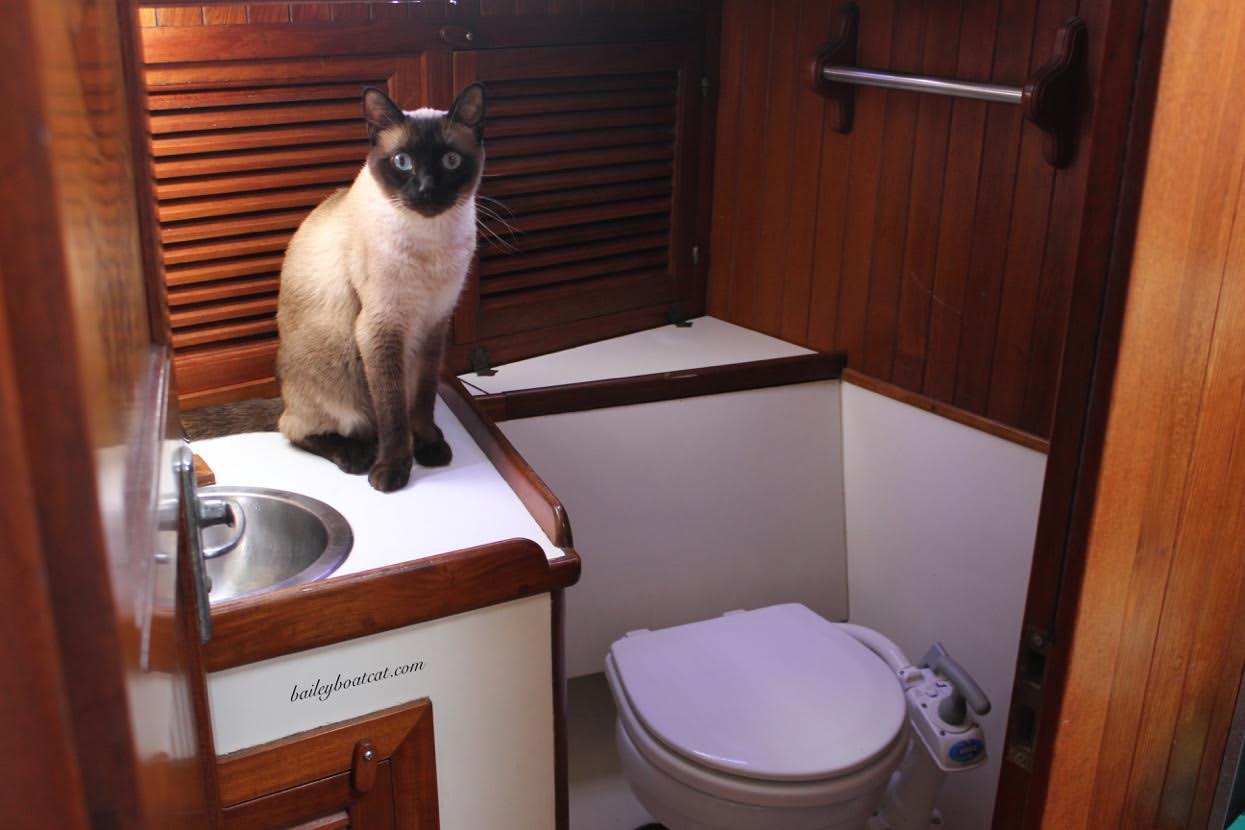 Many sailing cats have also been trained to use the head. Yes most cats can be trained to sit and use a human toilet! Of course this eliminates the need for cat litter and you don't have to deal with any cleaning except flushing (or pumping) the toilet for them. The downside to this of course is the fact that you always need to keep the toilet lid up and the head accessible to your cat. It might also be difficult for your cat to balance whilst your sailing or if you're in a rolly anchorage.
What if my cat gets seasick?
Unfortunately there's no way to know if your cat will get seasick until you take them sailing. Usually it's pretty obvious they don't feel well because they'll either be sick or very lethargic. (Bailey continuously licks his lips just before he's about to be sick.) The symptoms are very similar to human symptoms. We've found with Bailey the cure is also similar. If he's sick we bring him into the cockpit and let him curl up in his travel bag. The fresh air always helps him and he usually recovers quickly. After he's been sick and he's slept it off we tempt him with his favourite cat biscuits or treats just to get something back in his tummy and then he's happy again. You know your cat, and as long as you watch their signals, they'll let you know what they need.

If you enjoyed this post about sailing with a cat, make sure to follow Louise and her cat Bailey on her blog.