Tell me a little about your story and who is in your crew now.
Our family circumnavigated over a ten year period with our three children; they were 4, 6, and 9 years old when we moved aboard. Our eldest has since moved off to start university, and our teenage girls on board are about to turn 16 and 18.
What is your current status? Are you sheltering-in-place within your boat? Or sailing?
Were based in Mexico, and have been on the Pacific coast for a couple of years now. Our approach is shelter-in-place on the boat. Its been weeks already! We have done some sailing, but not recreationally our sailing has been to make progress towards a safer location for the pending hurricane season. Its our expectation that well need to continue isolating ourselves as much as possible for months. Fortunately, the Sea of Cortez also known as the Gulf of California, that water between the Baja peninsula and mainland Mexico is a stunning, relatively uninhabited, remote corner of the region. Its the nearly perfect place for both safety from hurricanes and isolation.
Did you ever think something like this would happen? Are you logistically prepared for something like this? (I would think that a decade of surviving off the mere essentials would've trained you for such a situation.)
Never in our imagination did we conjure up this scenario, and weve wondered about a lot of safety at sea scenarios! These are unprecedented times for living generations. But logistically, we really ARE very well prepared. Weve had many occasions where stocking up the boat with months of staples was necessary. This includes most of our ocean crossings, there were points at which we faced months where our opportunity to supplement on-board provisions was limited. In some cases, there would be zero opportunity.
We like to eat well, so the trick is to find a way to do this without just buying a couple of 20 kg bags of rice and lentils. Ive upped my game for food preservation as a result, and the results are rewarding. Last nights pasta dinner might have been simple, but capers (pantry pizzaz!) and artichoke hearts (live on the shelf almost indefinitely) were massively brightened by the addition of preserved lemon (a liter jar of this sunny tanginess will last us for many months). And then, theres the stash of dark chocolate and the gin, because one must prioritize!
What's been your stockpiling plan? What are your favorite comfort foods these days?
Our stockpiling plan for food is very simple. It works for anyone, whether they have to shop up for a home on land or a home on the water! I make meal lists: the dozen or so things each that we like to have for breakfast, lunch, and dinner and another list of snacks. THEN, re-do that list to be based on pantry meals, that is, meals you can make from long-term stores vs perishable foods. THEN, write out ingredients multiply by X based on number of servings or meals or whatever is easiest for you. Its possible to make it highly specific in terms of quantities needed with a spreadsheet, but not necessary to get pretty close estimations on quantity overall.
For stockpiling non-food items (cleaning supplies, for example) I think about: how much do we use in a week? Or- how much in a month, if thats the easier estimate; its nice not to run out of laundry soap or sponges or the now infamous toilet paper.
Were not eating comfort food really pretty as much as eating how we normally do, with the primary difference of prioritizing the use of perishables so that we can avoid waste by having any go off before we eat them. But I am more conscious than usual of our adage that a well-fed crew is a happy crew. Im cooking breakfast more often (we often forage individually), were being more conscious about gathering for meals outside dinner (which we always sit down for as a family). Those bring comfort in uncertain times.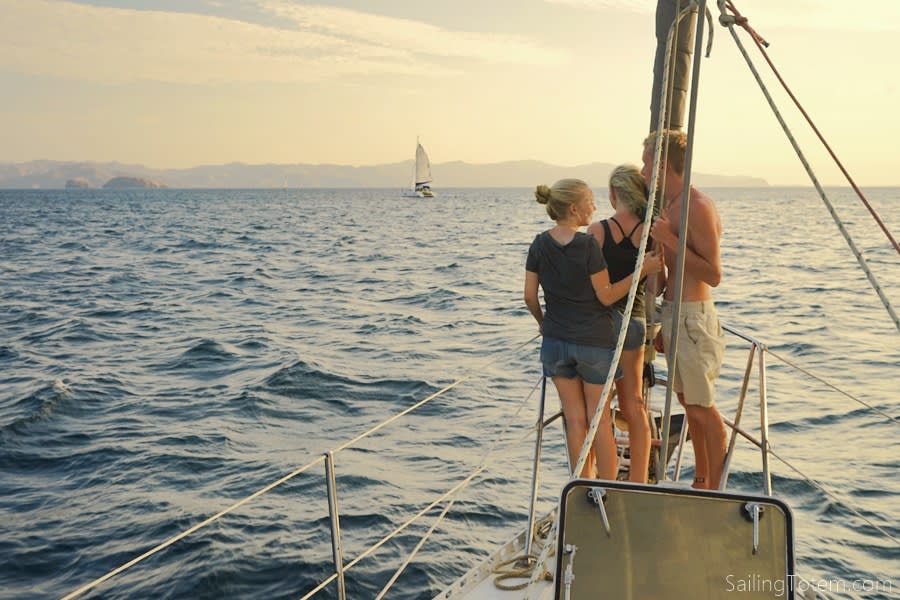 What are your options for the near future?
Theyre pretty narrow, but theyre good. Were in a country that allows free movement between ports, so were migrating north towards latitudes in Mexico that are safer during hurricane season.
What are you doing to keep busy during the off-hours (since you're likely not sailing much)?
We probably dont sail much as you think! I think its a common misconception about our lives. We spend about 5% of our time on passages not all that much. We do have day hops between ports and anchorages, but its still not a ton of sailing compared to the outside perception of the cruising life of being at sea more often than not. Its possible, of course (such as round-the-world rallies that race from port to port) but not typical.
Were busy with a mix of boat projects, reading, cards and games. Jamie and I are busier than ever with our coaching clients; were helping many at no cost just because they need it right now. They are in places that arent safe for hurricane season.
Do you have any advice for non-sailors who've never been forced to quarantine themselves to a tiny space?
When we first moved on board, it took some adjustments to share a small space 24×7, especially with three busy young children. It probably helped that we previously spent many weekends and holiday trips on our prior boat, even smaller than Totem. Enforcing quiet time every afternoon; it didnt have to mean napping for the little ones, but they did have to entertain themselves quietly in their cabins. As teens, they have a newfound appreciation for respecting private space!
Connecting with each other routinely helps, too. Its always been important for our family to sit down for dinner together and catch up on our day: unofficial family meetings, to talk about whats happening around us; what our plans are and how theyre changing; how everyone feels about the situation.