Only a few more weeks and it's time to leave 2017 behind! How will you ring in the new year? If you're looking to celebrate NYE 2018 in style, we've got you covered. Whether you want to spend the evening quietly with your partner, see some great fireworks with your kids, or go partying with your friends, a boat holiday or excursion is the ultimate way to say hello to 2018. Not sure where to go? Take a look at our list of the perfect New Year's Eve 2017 destinations for your party at sea. 
New Year's Eve 2020 Destinations – Where to Ring in the New Year on a Chartered Boat
Party with Friends in IbizaRecommended boats

Motor boat Ferretti 450 (2020)

sentiment_satisfied_alt

Optional skipper

Catamaran Lagoon 450 (2018)

sentiment_satisfied_alt

Optional skipper
Spend the New Year's Eve sailing around the White Island during the day and moor your yacht at Sant Antoni de Portmany when the sun goes down and step into the nightlife. Ibiza is the perfect place to celebrate NYE 2018 with your friends. I mean, we all know what Ibiza is famous for and this party-scene is absolutely booming on the 31st of December. During the day, you can enjoy a tour of the island – make sure to add the beaches of Cala Llentrisca, Cala Llentia and Cala Tarida to your itinerary. When you have had enough sun and sand for the day, head back to Sant Antoni de Portmany for an evening of revelry. Ibiza, besides being the hippest party-location, is beautiful and definitely worth checking out. Find you dream yacht in Ibiza.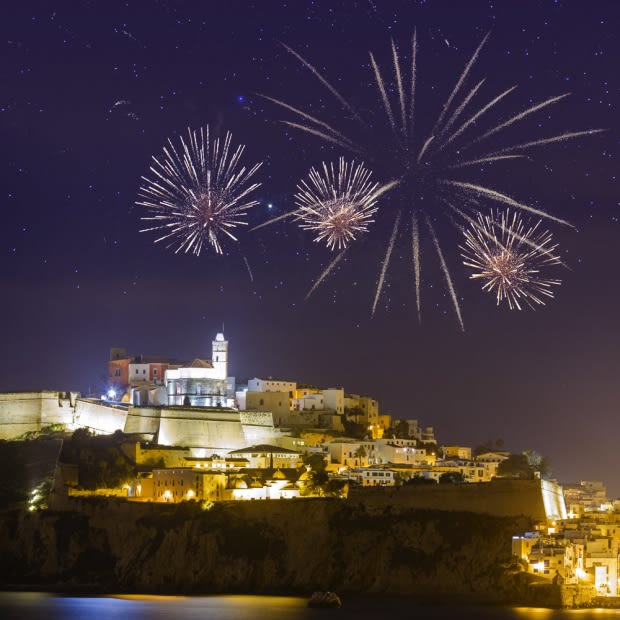 Romance at sea – The MaldivesRecommended boats

Sailboat Bavaria C57 (2018)

sentiment_satisfied_alt

Optional skipper

Catamaran Privilege 465 (2003)

sentiment_satisfied_alt

Optional skipper
The warm, pleasant climate, picturesque white beaches and the clear blue sea makes the Maldives a perfect place to celebrate NYE 2020 at sea. During the day, you can go snorkelling and see the reef with living corals and at night, get ready to pop open the bottle of bubbly. Spending your New Year's Eve on a boat is perfect for a private celebration as you look over the Indian Ocean while the new year kicks in. Doesn't sound so bad, does it? Go for it!
For the cultural and nature loving crew – South AfricaRecommended boats

Catamaran Lagoon 420 (2008)

sentiment_satisfied_alt

Optional skipper

Sailboat Beneteau Oceanis 51.1 (2018)

sentiment_satisfied_alt

Optional skipper
South Africa is a great New Year's Eve 2020 destination for those who love to hike, snorkel, and deep sea dive. Did you know it is quite likely that you will spot whales in the Atlantic Ocean? During the day you can go hiking and climb Table Mountain to see the city of Cape Town from another perspective. When the evening falls, hop back on board your private yacht and enjoy the view of the city while the fireworks go off as you and your friends or family unwind together as the countdown begins. After your relaxing start of the new year, you can enjoy the culture of South Africa. Go to the Haunted Castle which was built at the end of the 17th century by the Dutch East India Company. During your visit at the castle, you will learn more about the history of 'Kaapstad'. Sounds like something you are up for this year? Check out this page and learn more about how to make it happen.
Family celebration – SydneyRecommended boats

Sailboat Beneteau Cyclades 39.3 (2007)

sentiment_satisfied_alt

Optional skipper

Sailboat Beneteau Oceanis 461 (2020)

sentiment_satisfied_alt

Optional skipper
The annual multi-tiered event in the Land Down Under – Sydney New Year's Eve – is an exciting experience. Watch as the fireworks sparkle and dazzle behind the iconic Opera House and the Sydney Harbour Bridge from a unique perspective. Every year there are special music and light effects that create an impressive show. There is even a special family edition at 9pm for those with younger children. Curious what this show feels like? See this YouTube video and you will understand our excitement over Sydney's New Year's Eve (don't forget to put the music on!). Charter your own yacht around the waters of Sydney this December to experience an epic New Year's Eve 2020 and enjoy Australia's warm weather and beautiful waters. Sail around the coast in the Tasman Sea and go whale watching, a great first activity to do with your kids in 2020. If you're interested in going to Australia, click here.
Ready to end 2020 with an amazing sailing experience? The perfect NYE 2020 can be organised for you! Don't hesitate to contact our team of holiday experts, they will gladly help you find the right boat in one your preferred New Year's Eve 2020 destinations. Or check out our homepage and learn more about becoming a captain with Zizoo.
Recommended boats
Sailboat Hanse 385 (2015)
sentiment_satisfied_alt

Optional skipper
Sailboat Hanse 345 (2016)
sentiment_satisfied_alt

Optional skipper