We believe an island getaway is the gold standard for romantic holidays. So we rounded up our favorite destinations for honeymooners and romantics everywhere. Explore the top romantic getaways in Europe.
A private sailing holiday with your loved one is the perfect romantic getaway, and it's a lot easier to book than you think.
Imagine exploring the world's most beautiful islands all to yourself, gazing into starry night skies each evening and anchoring in hidden bays and beaches.
What better way to start a relationship – or rekindle one – than onboard a beautiful private yacht sailing around the world's most dreamy islands?
Here's our list of the top romantic islands getaways and sailing destinations to visit this year: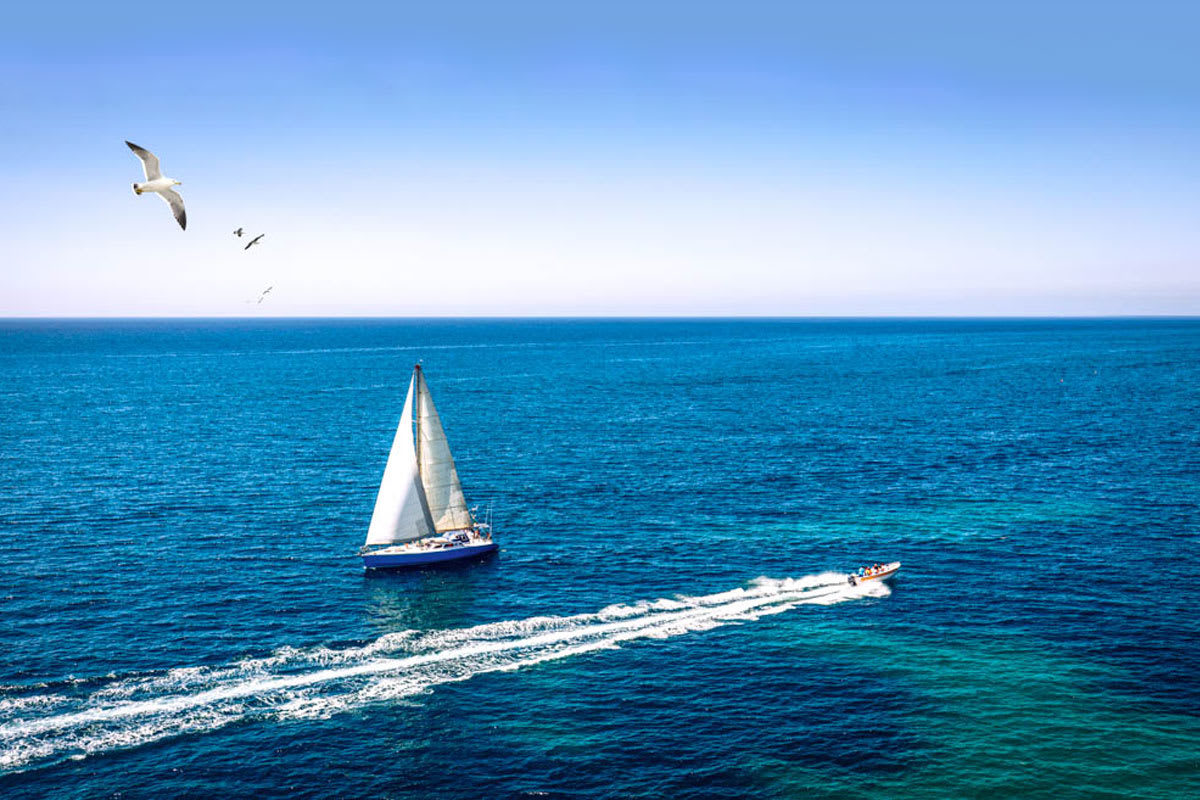 Rhodes, Greece
Home to a number of impressive heritage sites, idyllic golden beaches and fantastic cruising grounds, Rhodes remains a contender on our list of the top sailing destinations for romantic getaways. The peaceful island is a perfect starting point for couples looking to escape for a week on a yacht in the glistening Aegean Sea. After discovering the inspiring Palace of the Grand Master and taking a stroll on the one of the most preserved medieval streets in Europe (the Street of Nights) in the Old Town of Rhodes, sail south to visit Lindos, one of the most picturesque destinations in the Mediterranean. Chartering a yacht in Rhodes also allows you to explore several Aegean islands such as Tilos where you can be sure to find a secluded beach to spend a day or two. Also not to be missed is an excursion from Rhodes to Kos, a lively island that offers great hiking and diving opportunities.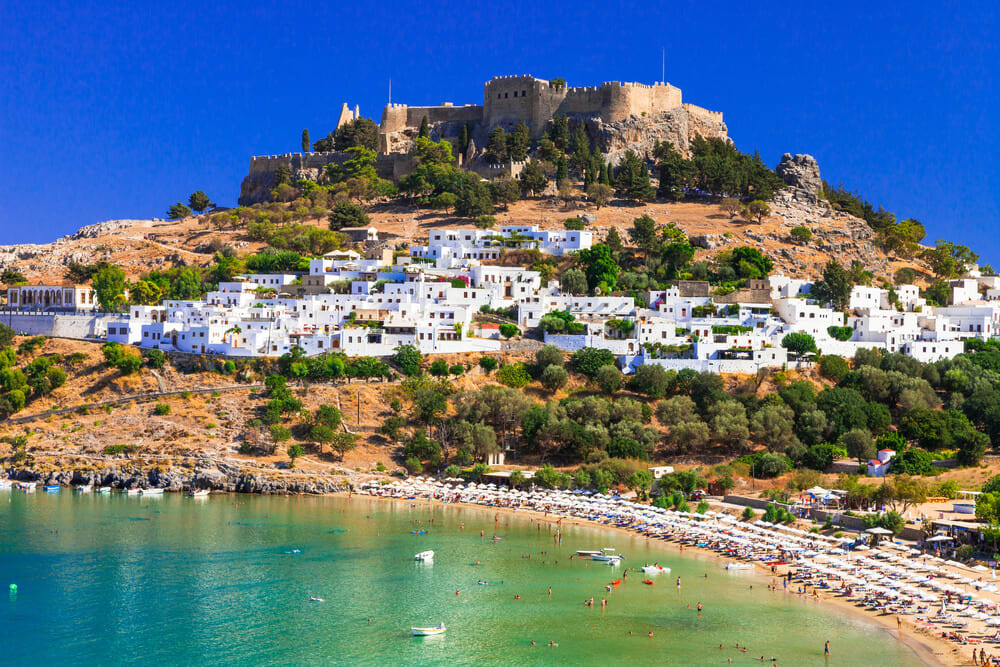 Canary Islands, Spain
f you are looking for incredible beaches and are seeking a bit of adventure, a boat trip in Canary Islands is the perfect destination for your romantic getaway. The volcanic island chain off the western coast of Africa is home to some of the most incredible and dynamic landscapes including sandy dunes, towering green hills and black sand beaches. The pristine waters of the Atlantic are perfect for well-traveled sailors. If you haven't sailed in the Atlantic, you can always get a skipper to take the helm so you and your significant other can sit back and relax on your boat holiday in the Canary Islands.
Charter a yacht in Lanzarote and get ready for a trip of a lifetime.
Hvar, Croatia
This resort town is known for attracting those with a little extra pocket money to spend on posh accommodations and extra privacy. Other reasons to pick Hvar over other Croatian islands include its reputation as a premier winemaking region in Croatia, the opulent Renaissance architecture, and the many secluded beaches that guarantee an undisturbed holiday.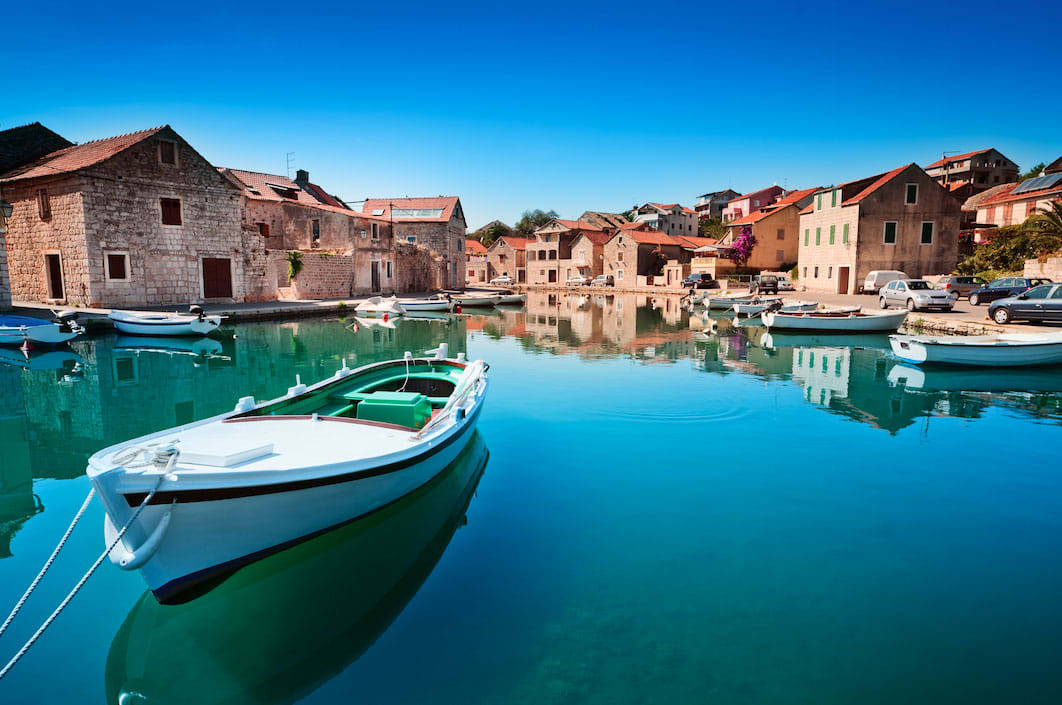 Sardinia – Portisco, Italy
The Italian island of Sardinia boasts some of the most gorgeous beaches in the world (just look at Sardegna Reporter's Instagram). Sardinia's stunning coastline is enhanced by a mesmerising mix of vibrant blues and cyan blue waters and the island's intriguing rock formations that were shaped by the wind. The winds that blow throughout the island also make Sardinia a fantastic sailing destination. Charter a yacht in Portisco and sail along Sardinia's famous Costa Smeralda. Sail around the alluring island chain of La Maddalena or mingle among the rich in famous in the legendary Porto Cervo. For more reasons to set sail in Sardinia, check out our guide and for more inspiration, take a look at our food and wine lover's sailing route featuring gastronomic tours from the winerist.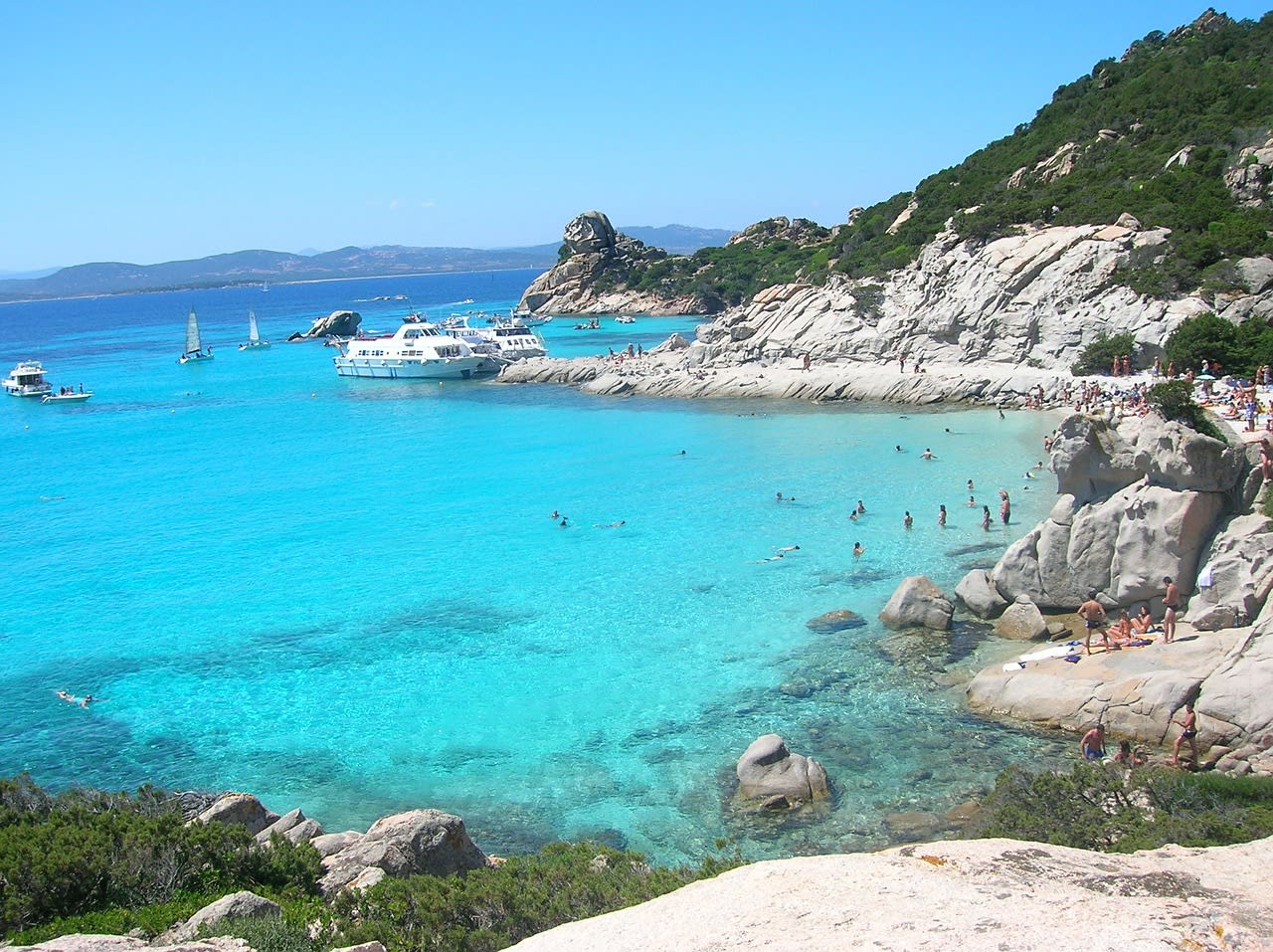 Santorini, Greece
This island is easily reachable by boat from Athens and has a more intimate feel than the capital. Not that you won't feel like you're on holiday here. Santorini has all the world-renowned qualities of a Greek location, including majestic cliffs, white-bleached homes, and of course, romantic sunsets foregrounded by dramatic views of the Aegean Sea.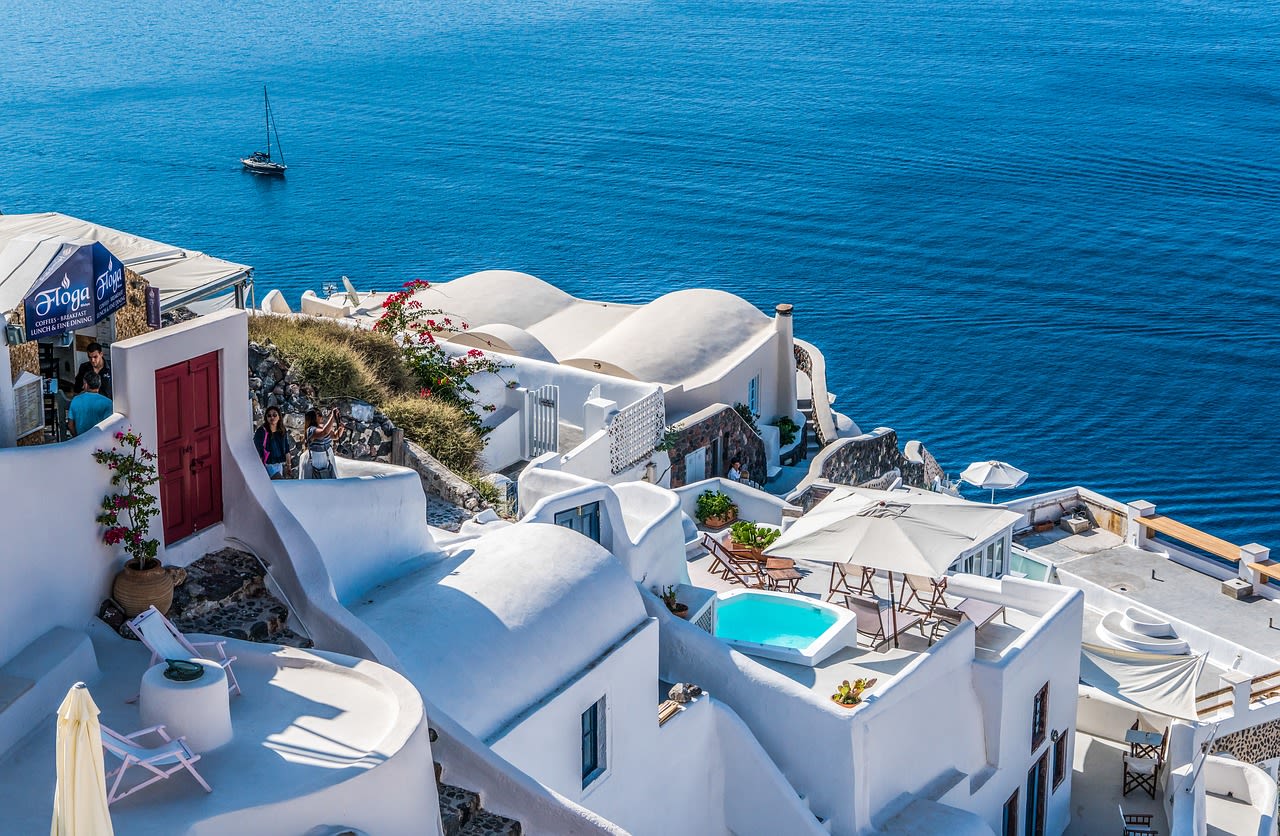 Corsica, France
The French island of Corsica is located west of the Italian Peninsula, north of Sardinia. With its secluded coves, sleepy villages and unforgettable sunsets, it's easy to see why Corsica is a favourite among lovebirds from around the world. Despite its popularity, Corsica has preserved its ambiance and remains unspoiled. Family-owned restaurants scattered along the coast offer local wines and delicacies such as Civet de sanglier (Wild boar casserole) and freshly-caught crayfish and sea bream.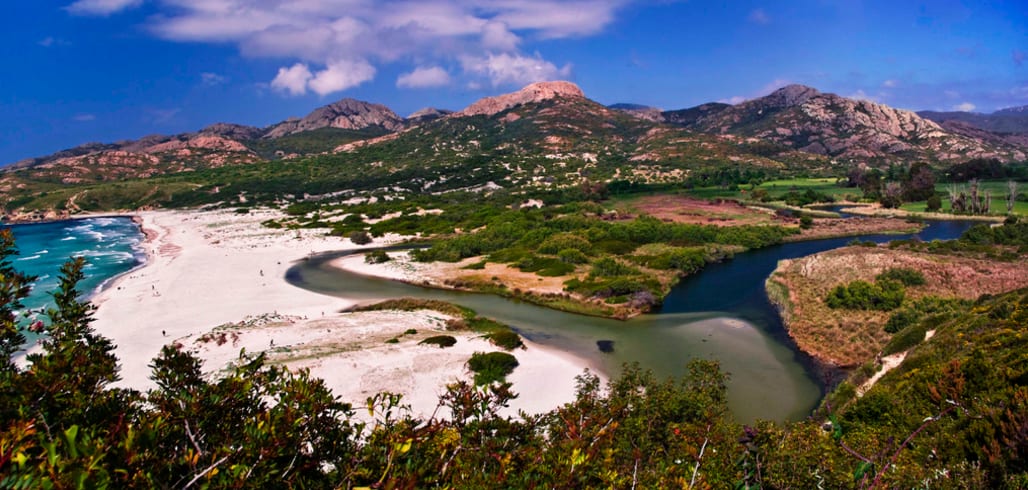 There are some 200 beaches to choose from in Corsica. Here are some of our favourites from each of the regions:
In the la Balagne region, the most romantic beach is perhaps off-the-beaten-path Ostriconi. Hidden between the mountains and the sea, Ostriconi is wild and secluded – a truly spectacular romantic setting.
In the St Florent & the north east regions, one of the most romantic beaches is Plage de Tamarone, situated north of Macinaggio. The beach boasts deep and pristine waters and is one of the most pristine beaches you'll ever come across. If you and your significant other are feeling like being active, there's a coastal walk (sentier des douaniers) you can start from the beach that offers some truly spectacular views (you can choose a circuit – one is 4-5 hours and the other only 1-2 hours).
In the L'Extrême Sud region, a must-visit destination are the little-known Lavezzi Isles. As they are only reachable by boat; the gorgeous beaches on the isles are virtually empty and perfect for a romantic outing. The isles are located within the Strait of Bonifacio that separates Corsica from Sardinia.
Last but not least, when it comes to romantic beaches of the Corsican west coast, Portiglio is one to note down. The long, sandy beach is less crowded than the beaches near it and it's often visited by locals. It's ideal for couples looking for an authentic Corsican experience.If you're planning to go for a dip, take care not to go too deep as there are known undercurrents to watch out for.
Sound good? Charter a private yacht in Corsica.
Ibiza – Sant Antoni de Portmany, Spain
If you're looking for a more energized romantic getaway in Europe, then Ibiza's Sant Antoni de Portmany might be the destination for you. It's known as the clubbing capital of the world, and has the world class DJ line-ups and international crowds to prove it. Not that it has to be all dancing, all day long. You can spend your daylights resting in pretty, isolated beaches scattered throughout the town (like Cala Saladeta), then get social as soon as the sun sets.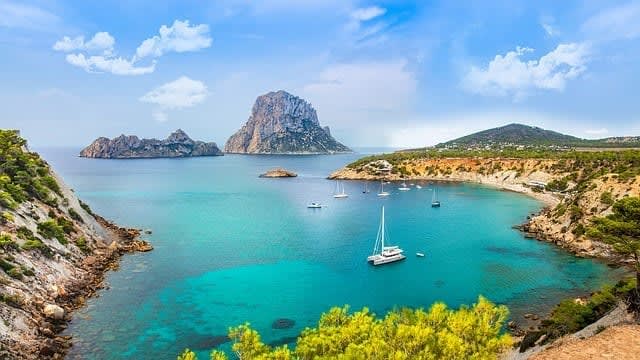 Capo d'Orlando, Italy
Every business in Sicily closes between 13:00 and 16:00, making rest and relaxation a somewhat obligatory part of your trip here. If you and your fellow holidayer want even more silence, head up the stairs of Monte della Madonna to get a view of the entire island. Then, alongside this charming church, watch the sunset go down behind the sparkling Tyrrhenian sea.