One of the best things about yacht charter holidays is being able to choose from a variety of different boats and models for your trip. This also means that you can test the waters on some of the newest models on the market. Check out our list of the top yachts of 2018 to charter next year and start planning your dream boat holiday on one of the most innovative and stylish new catamarans, motor boats and cruisers in our ever-growing fleet.
Top Yachts of 2018 for your next charter holiday
Fountaine Pajot Saona 47
Introduced this year in celebration of Fountaine Pajot's 40th anniversary, the Saona 47 is the French boat manufacturer's newest flagship model in its already high-quality line of catamarans. As soon as you step aboard this luxurious cat, you'll feel like you've walked into a floating villa. The Saona 47's bright, refined interior and expansive outdoor spaces will give you and up to 7 other guests a top-rate cruising experience. This 47ft (nearly 14m) yacht was designed and constructed with stability, performance, comfort and brightness in mind. The Saona 47 has also been nominated to win the European Yacht of the Year Award. Stay tuned to hear if the Saona 47 wins during Boot Dusseldorf 2018.
Begin your private cruise on a brand new Saona 47 in the area of Split, Croatia in 2018.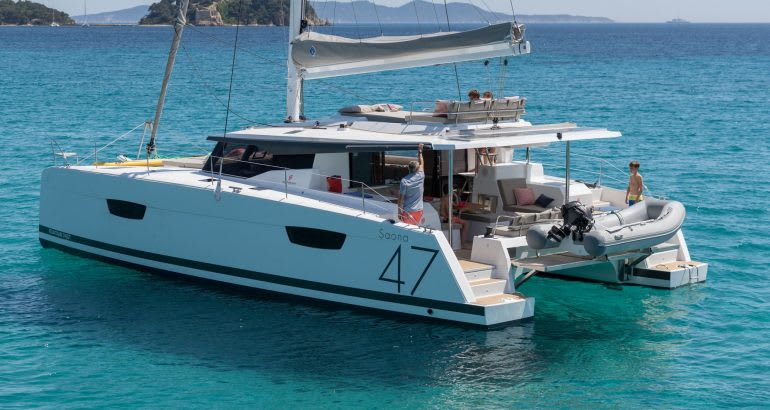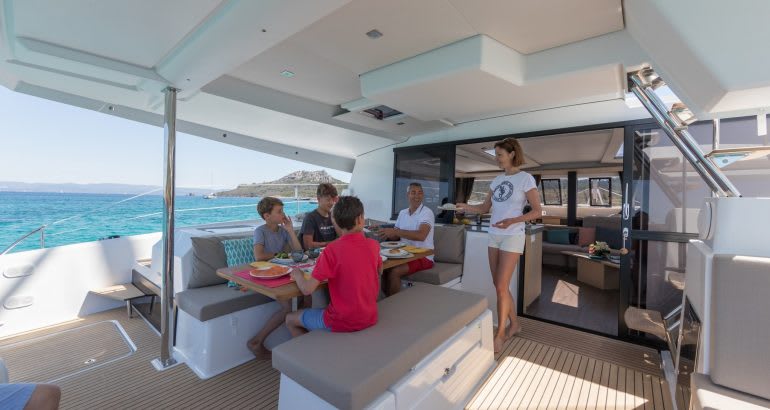 Galeon GALIA 700 SUNDECK
If you are looking for a performance oriented motor boat, this Galia 700 Sundeck is for you. Galeon is one of Europe's leading privately owned luxury yacht and motorboat manufacturers and is well-known for their fine craftsmanship and attention to detail. The 2018 Galia 700 offers plenty of space for lounging in the sun while on your next holiday in Mali Losinj, Croatia. Enjoy island hopping on this speedy motor boat next Spring or Summer for as little as €23 per person a day.
Contact us for the latest deals on the Galia 700 Sundeck.
Lagoon 42
The Lagoon 42 kicks the cruising experience up another notch thanks to its creative design which allows for easy manoeuvrability and great performance under sail. Sleek curves, clean lines and a unique floating roof define the futuristic look of the Lagoon 42, giving it both a fantastic sporty feel and style. Whether you charter this catamaran bareboat or crewed, your captain will surely be impressed by the great visibility and handling that this multihull provides. It is no wonder why the Lagoon 42 won Sail magazine's Best Multihull cruiser in the 40-50ft category in 2017. Given Lagoon's famous wide windows and light-flooded interiors, it is also not unsurprising that the 42 provides the most air and opening hatches than all other models of its class.
Experience the joy of sailing the Lagoon 42, one of the top yachts of 2018 in Croatia next year.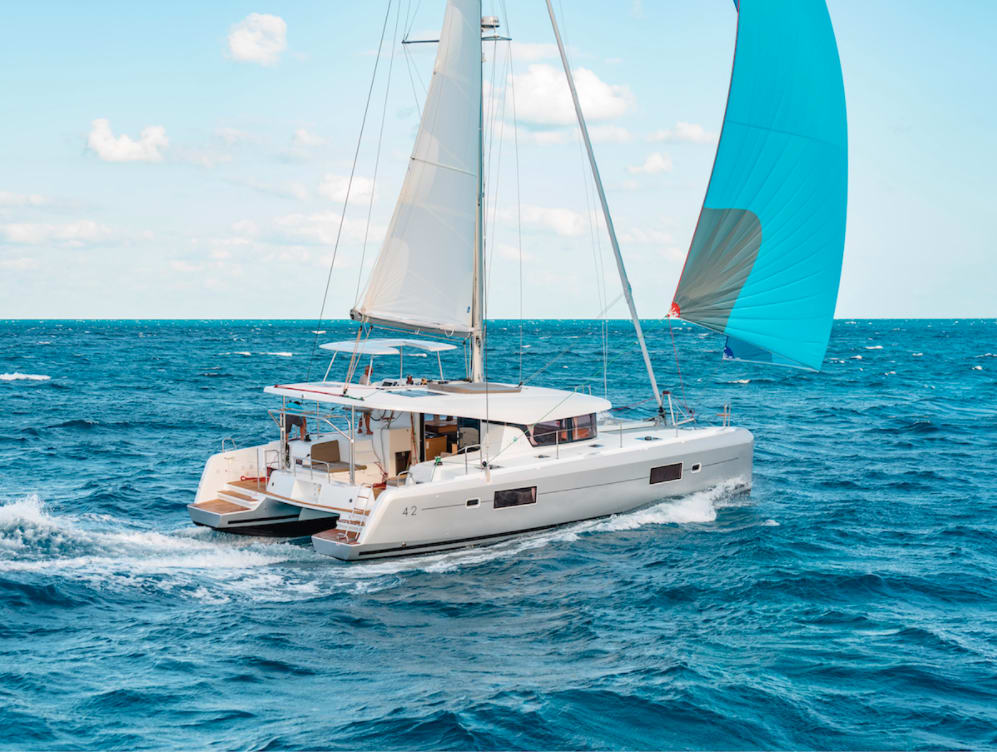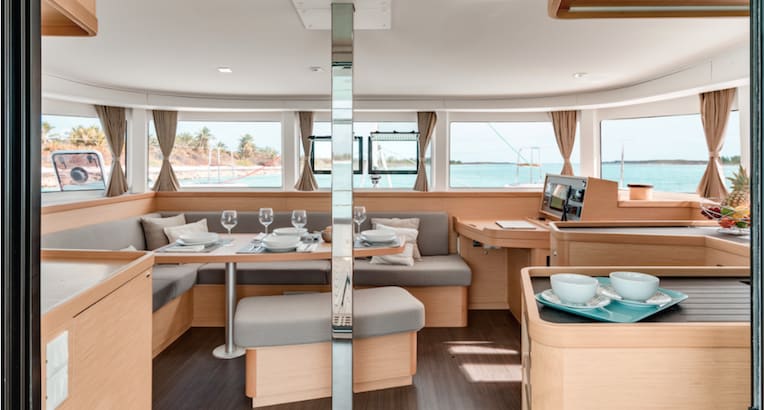 Fountaine Pajot Ipanema 58
Also worth trying out next season is the Fountaine Pajot Ipanema 58. This elegant and innovative model is perfect for those seeking a unique holiday experience at sea. Praised for its expansive spaces for lounging and relaxation, the Ipanema 58 also captured the attention of boat enthusiasts around the world because of its extensive flybridge (the largest on the market) bringing this multihull to a whole new level (literally!). This model features 6 deluxe cabins and plenty of room for dining under the stars and taking in the cool sea breeze both inside and out. It's perhaps no coincidence that this model shares its name with a certain charming and alluring 1960's bossa nova song. "When she passes, each one she passes goes 'ah'…"
Charter the new 2018 Ipanema 58 in the British Virgin Islands.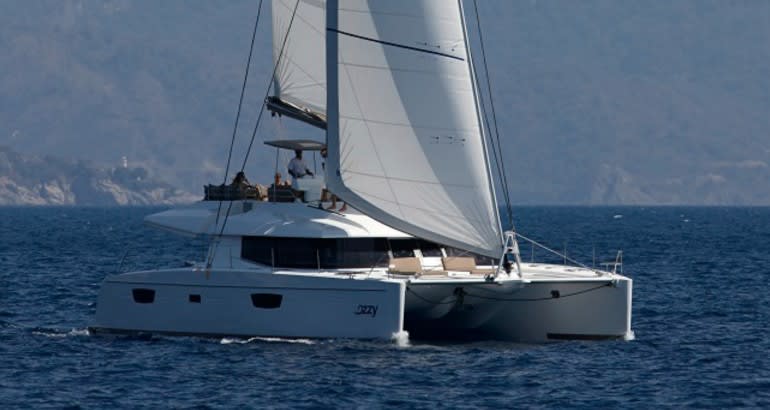 Beneteau Oceanis 38.1
Beneteau's Oceanis line was made to suit sailors of all types and lifestyles. The Oceanis 35.1 – 38.1 and 41.1 are no exception and are known for their ability to "combine performance and comfort at sea". The 2018 Oceanis 38.1 is ideal for the casual cruiser wanting a yacht that provides smooth and easy handling as well as good style. The 2018 Oceanis 38.1 also provides plenty of space on deck and below. Take in the sun on the double helm station or jump into the Mediterranean's crystal clear waters from the yacht's large swimming platform. Inside, you can enjoy the beautiful design by Nauta Yachts, which optimizes space and light, making it a wonderful place to dine and entertain.
Now you can enjoy cruising on the new Oceanis 38.1 in one of many locations throughout Croatia.
Image Source: Beneteau
We can't wait to try out these top yachts of 2018 next season. How about you? Book now to get the best deals on yacht charters in 2018 and spend your holiday cruising in style aboard one of these beauties.