Zizoo interviews Tara from PiZZA Pi VI, one of our favourite pizza joints to visit in the US Virgin Islands. Why you might ask? Well you've heard of food trucks, but how about food boats? That's right, Pizza Pi is a unique "food boat" anchored in Christmas Cove in Great St James Island, V.I.. PiZZA Pi VI was founded and built by Tara and her husband, Sasha who decided to bring New York style pizza to the Caribbean in a totally unique way. So what is it like to own a floating pizzeria? Read on to find out.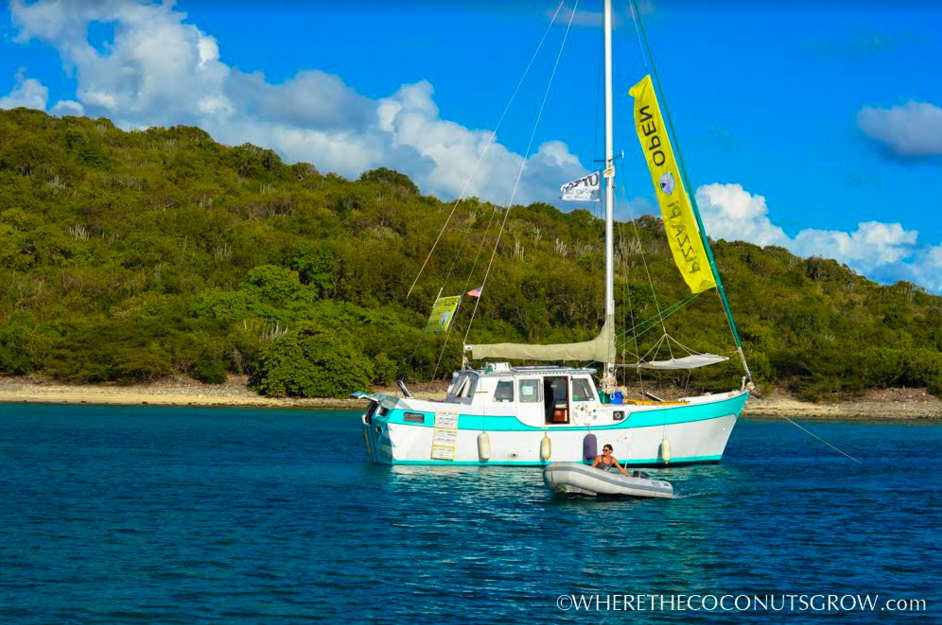 What inspired you to found PiZZA Pi VI?
My husband, Sasha, and I both left our mainstream jobs in the US in search of a more balanced and fulfilling life. I was a special ed teacher in Indiana and Sasha worked on Wall Street in NYC. Sasha and I met while working on the water in the BVI and after meeting, joined the luxury yachting industry for a number of years.
While working on yachts we noticed the food truck culture take off in the states we realized that with the right location, the same concept could work well on the water. We created PiZZA Pi with the intention of keeping a foot in the marine tourism industry while creating a little more time for family and life outside the yachting world.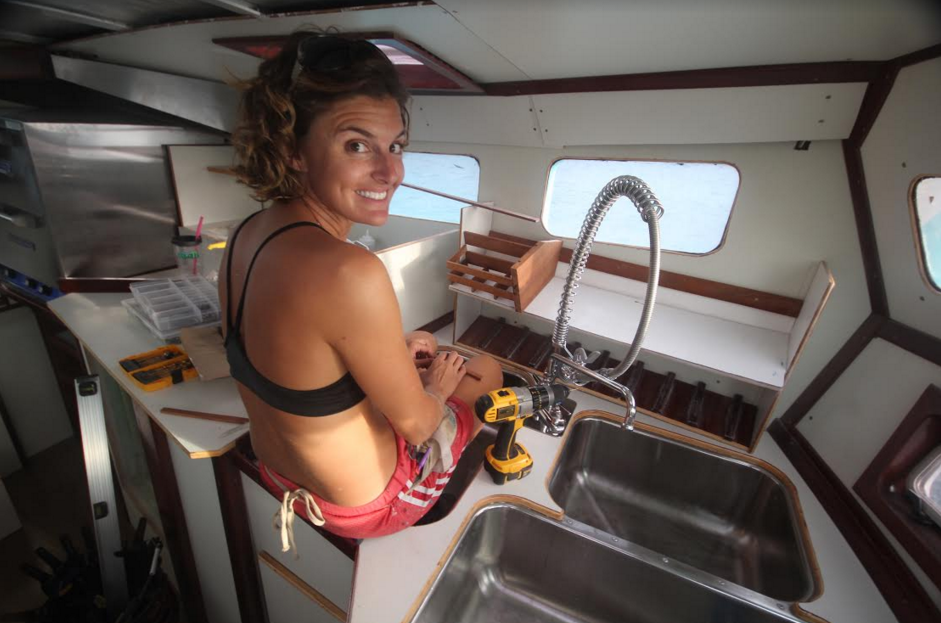 The boat itself is the product of two and a half years of sweat equity. We designed the boat to maintain it's unassuming motorsailer look from the exterior, but when you step aboard you are transported to a commercial pizza kitchen.
What does the name mean?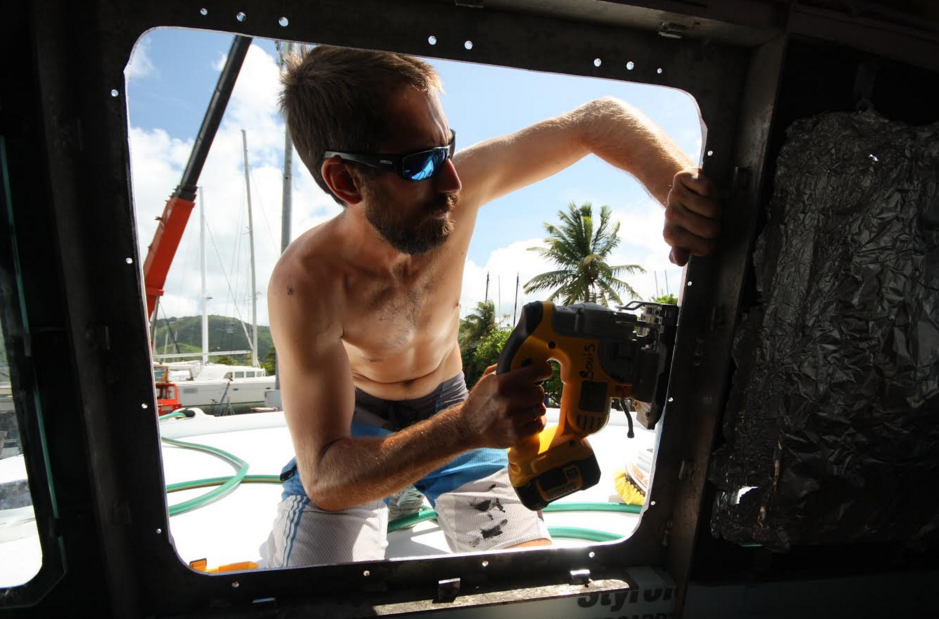 When naming the boat I wanted something short and easy to spell in the event of an onboard emergency. In thinking about the overall theme of the business we wanted to go more along the lines of "smart is cool" rather than another twist on the pirate theme. Sasha is an MIT grad and really likes numbers so he was the one to suggest using Pi. If you look at the number pi, it is a transcendental and irrational number meaning it is never ending, has limitless possibilities, and there is no reason or patterns.  Is there a better name for a boat the was setting out to the the first commercial pizza boat in the VI?
What is it like owning and running a boat-up food business?
It is the best business ever! We've taken the best of the restaurant world and moved it to a beautiful, secluded cove with sea turtles and tropical fish. Everyone who comes out to PiZZA Pi for lunch or dinner is on a boat and loving life – then we get to blow them away with the best pizza in the VI.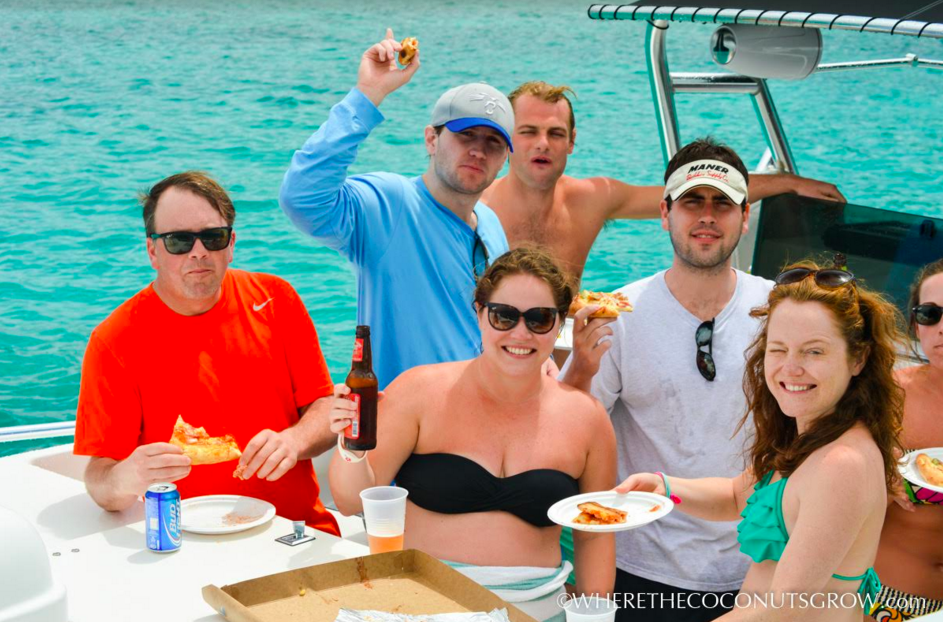 Any funny stories you'd like to share?
Oh… in a 12' x 12' rocking pizza kitchen there are is shortage of funny stories. We have a lot of fun on the boat and really aim to make every guest experience a great one.  One day a grumpy sailor came over to yell at me about the slow internet (our first season we sold wifi). I happily handed him his $2 back and apologized while handing him a code for another 2 hours of free wifi. Without missing a beat the sailor frowned and yelled at me "You're so damn agreeable! Can I have a menu to go?". Sure enough he ordered pizza that night… and the next night, too.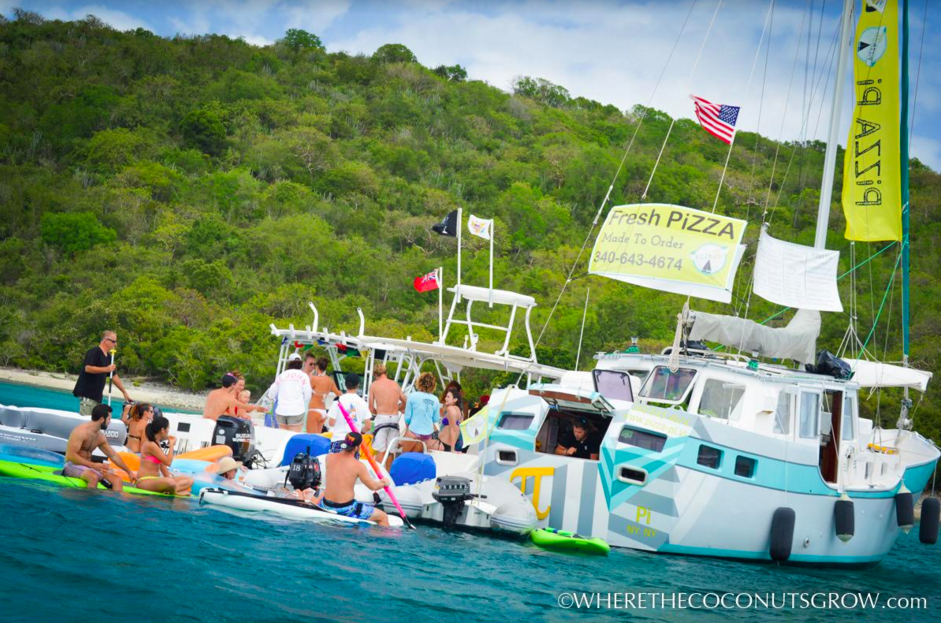 PiZZA Pi VI has been serving up some of the best NY style pizza that's available for boat pick-up and delivery in St. James for the past two years. Try one of their classic Margheritas or a Rasta Mon, a tasty pie inspired by the flavours of the Caribbean topped with fresh mango and coconut on your next sailing holiday in the Caribbean. Learn more about PiZZA Pi VI on their   and stay up-to-date on their opening times and offerings on Facebook.  
Check out a video interview with Tara and Sasha here.
Photo credits at the popular sailing blog, Where the Coconuts Grow.