Want to hear from the people behind the best sailing and travel blogs? This interview will blow you away.
Our regular series of sailing blogger interviews seems to get better with every edition. The travellers we meet have some incredible stories to tell, and we're so glad we get to share them. As you know, we've got big love for sailing holidays.
So we're doing our best to reach out to the coolest, most interesting, and most adventurous travel and sailing bloggers in the world.
This next interview is an important one. Jase and Jolene from Team Labyrinth do so much more than just sailing. They're filmmakers, conservationists, and they're doing some really amazing things for the local people of the places they visit.
This interview is one not to miss! Scroll down and read their inspiring story…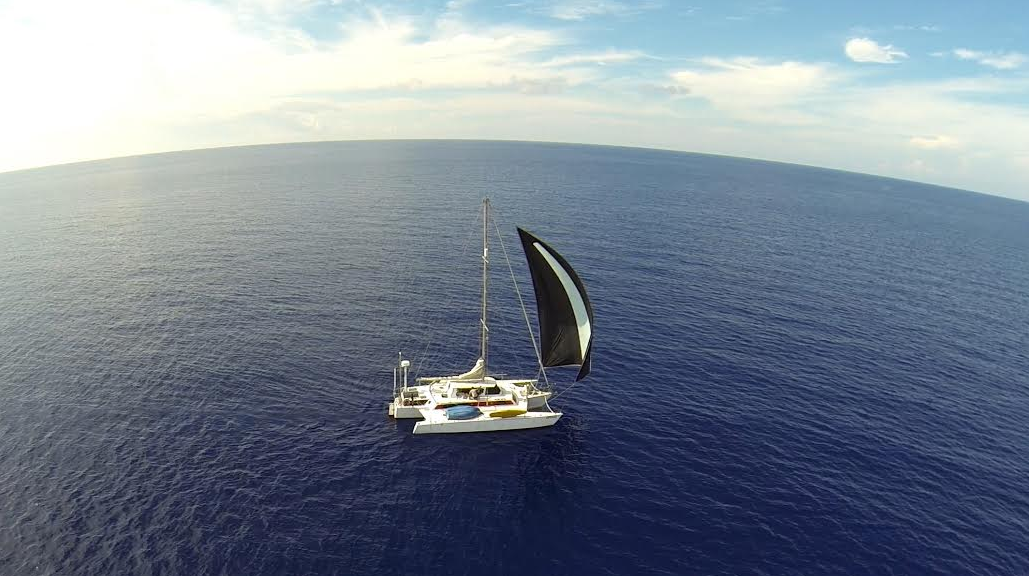 1. Hi Jase and Jolene. Where are you right now?
We are in Oceanview Marina on Samal Island, in the southern Philippines.
2. Awesome! What brought you together, and how long have you been sailing for?
Jolene and I met in 2010. Right from the start, she knew I wanted to buy a yacht and sail for the horizon. I always thought it was a pipe dream or perhaps something to try on retirement.
However, in 2013 we found Labyrinth in Malaysia. The price was very good, so we decided to make the jump.
We are by no means well off, and finding ways to cover expenses is always a struggle. Since setting sail, we've worked as dive-masters and charter crew and writers and graphic designers. Jolene even sells cakes and baked goods!
In late 2014 we made a short film called Breaking Boats with two friends of ours, James and Roxanne. The film followed us through a week's mis-adventures while sailing off the east coast of Malaysia. It was well-received online, and so I decided to make a series of films, released online, which would combine sailing, travel, and our passion for conservation.
Everywhere we sailed we saw massive environmental and ecological threats, such as climate change, over-fishing, dynamite fishing, plastic pollution and deforestation. We also saw locals' efforts to protect their homes hampered by lack of publicity and resources.  
I had the boat, the film skills and the equipment, so we decided we would help by producing films that highlighted these issues. We hope that by highlighting the efforts of local conservationists we could bring greater awareness and support to their plight. So that's what we're doing now: making the Voyage of the Labyrinth conservation adventure film series.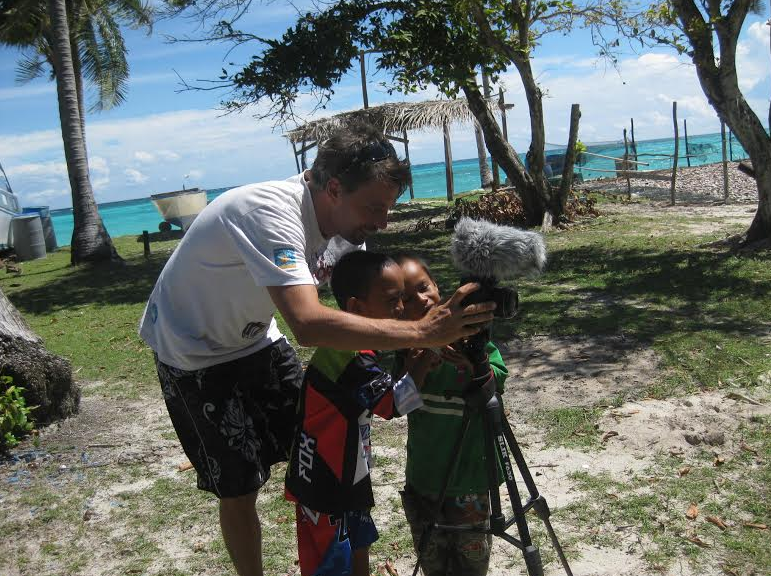 3. That's incredible. What kind of boat do you sail, and who does what?
Labyrinth is a 41′ Searunner trimaran, an older design dating from the early eighties. I hadn't any experience in trimarans before I found Labyrinth, so we had to spend a bit of time becoming acquainted.
Things have been going great since we got to know each other. I say she's like a monohull with training wheels; with the sailing characteristics of a mono but with the stability and shallow draft of a cat. The latter characteristic is extremely valuable when filming in Asia, as it allows us to cross shallow bars, go up rivers and anchor in more places than a deep-drafted mono.
She has massive amounts of deck space (as big as half a tennis court!), which is fantastic when we're all kitting up for a dive. When we anchor off a coral reef it's like having our very own dive platform!
As for how we split the jobs, I always say I keep the boat going and Jolene keeps me going! I am the skipper, mechanic, navigator and electrician, whereas Jolene does the administration, supplies and cooking.
4. Where are your three favourite sailing destinations and why?
Tioman Island, Malaysia: Tioman is a special place for Jolene and I, as it's the first area we cruised extensively after buying Labyrinth. It's the largest of a chain of islands off the east coast of Malaysia.
It's a great cruising ground; Tioman and the mainland town of Mersing are large enough to provision, but the rest of the islands are remote and infrequently visited, enough so that you can feel like you're the only yachtie on earth. The marine park around Tioman is better enforced than most in Asia, which means it's one of the few places I've seen large schools of barracuda, trevalley and other pelagics. And Malaysian people are warm and friendly to us wherever we go.
Rajang River, Sarawak: We went up the Rajang, Malaysia's Amazon, while filming our BORNEO episode. The state of Sarawak has been extensively logged; something like 90% of forests have been destroyed. There are massive disputes between the indigenous people and the logging companies, and the animals and habitats caught in between have been decimated.
On one hand, it was incredible to take Labyrinth up uncharted river channels, sometimes barely wider than Labyrinth herself. You really felt like an explorer. But, on the other hand, it was heartbreaking when you'd come around a bend in the river and find the forest had been razed.
So it wasn't exactly a 'favourite' in the normal sense of the word, but it was one of the ones I remember most strongly and was only possible with Labyrinth.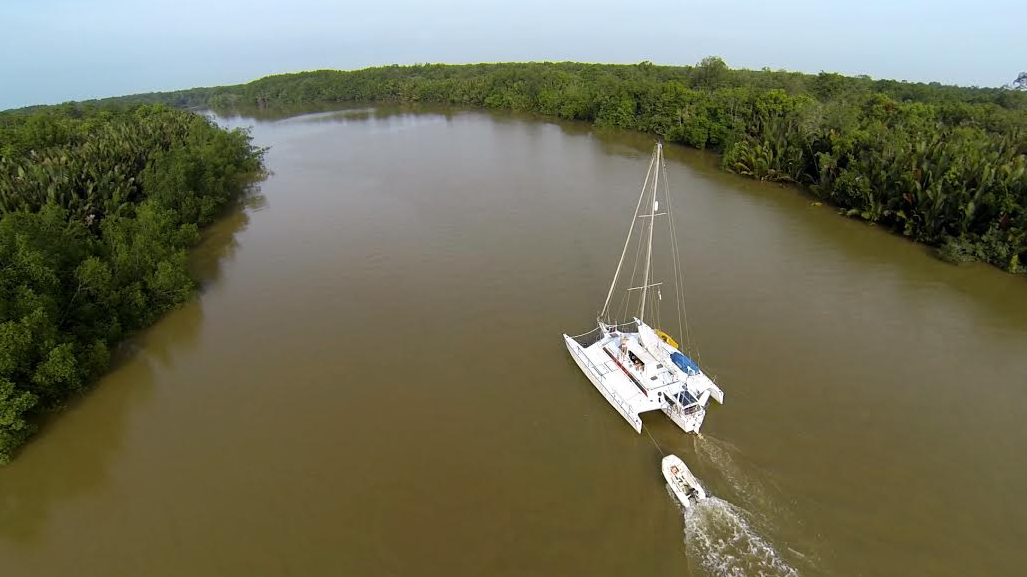 Philippines (all of it!): It's our first time in the Philippines and we love it; the people are friendly, the food is fantastic and the sailing conditions are challenging and diverse.
The widespread speaking of English makes it easier, from a logistical viewpoint, than many other Southeast Asian destinations, and the range of ecological issues makes it interesting to film.
Many of the same issues we see everywhere in Asia are present in Philippines: climate change, over-fishing, habitat destruction, exploitation of marine and local resources, lack of options and representation for local people.
But there seem to be more people fighting the good fight here, and more opportunities to meet these challenges, and we are humbled by the people we are meeting and proud to be able to help them.
5. You recently released a very important documentary. What was it like creating it?
Nico and the Turtle was one of those stories that started off as one thing and ended as another. It was an adventure and a journey in the truest sense of the word, and yet it occurred all in one place – Dahican beach, Mayo Bay in Mindanao, in the Philippines.
The funny thing about it was that we weren't even planning to stop in Mayo Bay, but a storm forced us there to seek shelter. And I'm glad it did – we met Jun, Winston, Rose and the rest of the crew at Amihan Sa Dahican,  a community conservation movement and surf camp that provides a safe and wholesome environment for local at-risk children to develop life skills and confidence. They were exactly who we set out on this voyage to find.
From there we started filming their work. Then, a fisherman's son named Nico brought in a critically endangered Hawksbill Turtle his father had caught. This boy's act of kindness kicked off an unlikely chain of events that we document in the film Nico and the Turtle, events that have changed our lives.
See the documentary here: https://vimeo.com/141631532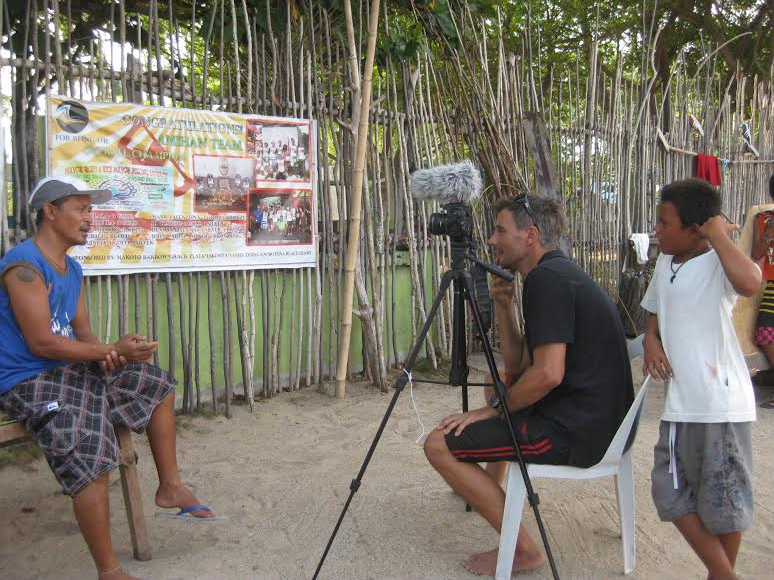 6. You're a passionate group doing great things for local communities. How can other people help?
Just regarding our films, we're still struggling to find a way to keep this project going financially! We've set up a Patreon, which is like a mini ongoing Kickstarter, where people can sign up for extra rewards and content: www.patreon.com/teamlabyrinth.
But, in the bigger picture, we try and highlight ways viewers and supporters can help the communities they visit – and their own communities at home. In all our films we highlight ways viewers can get involved – for example, Coral Island Clean Up had links to Dive Against Debris resources so people can conduct their own rubbish removal dives.  
But I think the best way people can help is by being more responsible in their own lives – research the food you eat, the products you buy and the places you holiday. See if they're ecologically friendly and sustainable. Simple things like avoiding palm oil or only diving with responsible scuba operators can make big differences.
A lot of communities are turning to tourism as a more sustainable source of income, rather than fishing or cash crops like palm oil or prawn farms. Wherever possible, support these community tourism projects when you are holidaying.
7. What are the three things you love most about your adventures together?
Exploring new cultures and food.

Sometimes our best adventures have been visits to the local market. The sights and smells of new people, produce, and films are intoxicating.




Our favourite thing is to go to a restaurant with a local and have them choose food for us. Sometimes there are misses (I don't think I'll ever learn to like durians!), but usually it's a fantastic way to learn about new foods. Latest

discovery: Ox Skin Stew

is quite good. Who would have thought it!?
Feeling like we can make a difference – both directly and indirectly. The best thing about the Voyage of the Labyrinth project is directly helping people; making them films, helping them with their work (like when we helped kick-off an island recycling program by using Labyrinth to deliver twenty bins), or just getting in and doing the work yourself. Nothing makes you feel more accomplished than going out and bringing back hundreds of kilos of rubbish from the reef and mangroves.
But we also hope that we help inspire other people by showing them the people who inspire us. I hope that Voyage of the Labyrinth can act as a network that helps small conservation groups find backers, supporters and publicity. 
Sharing our lives with others. 

It's a little funny that many see cruising as an escape from the modern world, where I suspect I spend more time on social media now than ever before.




But it's not surprising; we're making films that are released online and promoted and distributed by social media – and it's via email, blogs, Facebook and twitter that we interact with our friends, supporters and collaborators.


But that's the rewarding thing about this experience as well: working hard to create something you hope has meaning and then seeing other people take it and share it and show their friends. It's an incredible thing to see your work inspire others, and it's what this voyage is all about.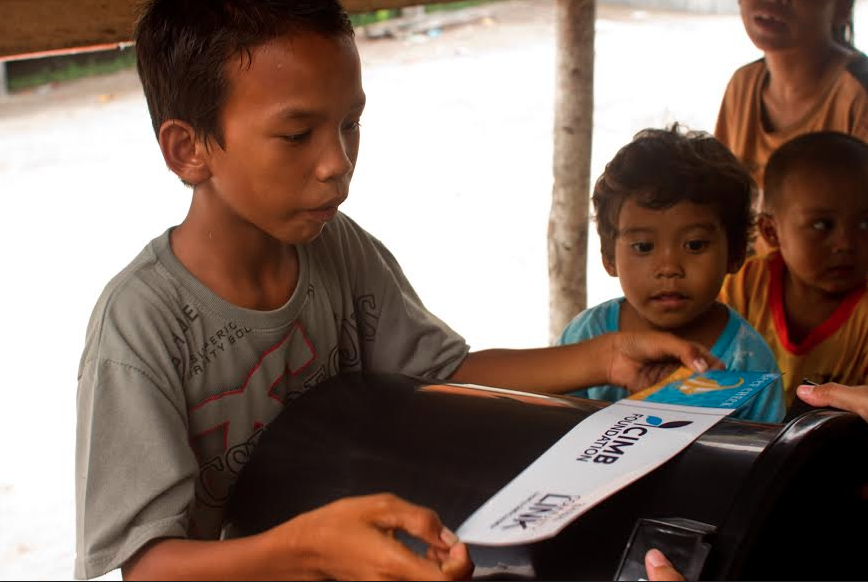 8. Do you have any crazy or memorable stories from your time on the sea?
Labyrinth is over thirty years old but she's in fine form. On the other hand, her engine, a truck diesel from 1982 that was custom marinised, causes me no end of pain!
We were in the middle of the Sulu Sea in a dead calm when the cam shaft timing belt broke. The result was bent and broken valves – ouch! It was four days of drifting two hundred miles from land before a decent wind brought us to the Philippines.  Parts for it are impossible to find, so I have to use so many spares from other engine types to fix it that Jolene calls it 'Frankenengine'!  
But all those troubles are forgotten when you have an experience like when dozens of dolphins rode with us through a sea alive with phosphorescence. Here's a clip from the blog…
There were dozens of them, sleek grey shadows racing like greyhounds in the water that rose and then fell away from our bows. Sparkles danced in the air every time they leapt as the sea was alive with bioluminescence; we could see the dolphins themselves glowing, the speed of their passage causing the tiny microscopic ocean plankton to burst brightly into flaring protest, so the dolphins trailed a wake of green sparks.
They raced and twisted around each other, in a complicated dance that brought them up from behind us in waves, racing beneath Labyrinth's triple hulls, broaching together in a line like a rank of infantrymen going over the top, riding our bow waves for a second, spouting great clouds of seawater that soaked us where we lay above them in the nets, and then falling away so that the next rank could have their ride.
The night was unusually dark, the promised three quarter moon yet to rise, and the sea was very, very still. The glassy sea reflected the glimmering stars above and it was difficult to see where the sky ended and the sea began.  It appeared that that we sailed through the heavens, the reflected stars pinpricking the briny depths, the faintly glowing clouds like nebula hanging in infinity.
And beneath us ran the dolphins, dozens of them, all shedding showers of sparks as they slipped through a sea thick with phosphorescence, like a swarm of sentient comets, blazing green with an unworldly cold fire that stretched out in a broad wake behind Labyrinth. An observer up above would see a long green arrow that pointed to the place where the two species rode in communion with each other, coming together in a shared moment of the joy of movement, of being at sea, of being alive.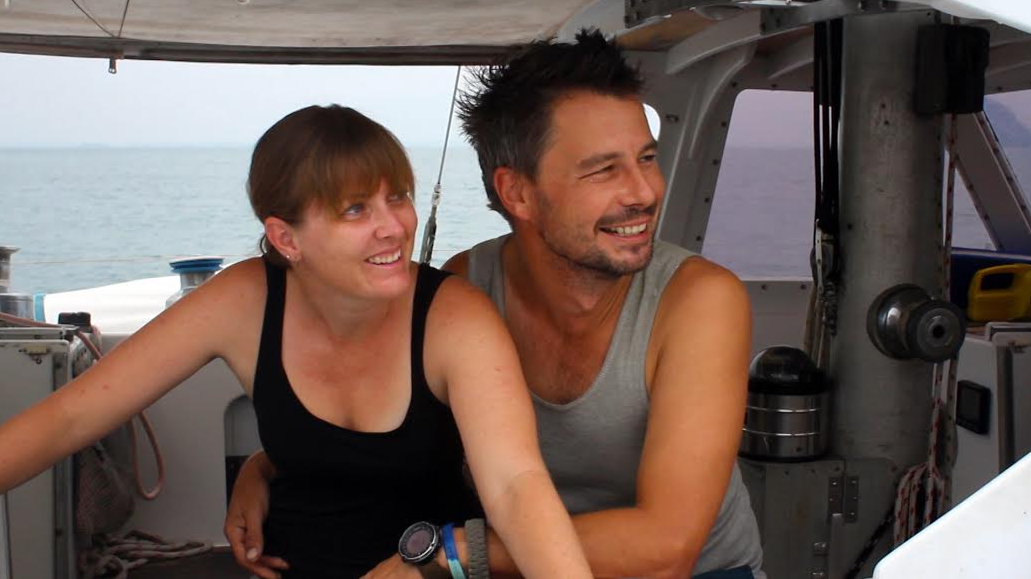 9. Where are you headed next, and what's your next project?
We'll be around the Philippines for the next few months as we continue repairs on Labyrinth. We'll also take the last four months of footage we've shot and turn it into films. Next, we hope to head to Indonesia and explore some of the issues there!
10. What's your favourite sailing/travel/inspirational quote?
I'm going to have to go with the grandfather of ocean conservation himself and go with two quotes from Jacques Cousteau.
"When one man, for whatever reason, has the opportunity to lead an extraordinary life, he has no right to keep it to himself."
and…
"If we were logical, the future would be bleak, indeed. But we are more than logical. We are human beings, and we have faith, and we have hope, and we can work."
Wow. Truly inspirational people, aren't they? To see the other interviews in our travel blogger series, head here.
To discover how you could be sailing the world, head to the home of sailing holidays and charter a yacht now!