Are you looking for a place to relax on some of Europe's best beaches, take a swim in crystal blue and turquoise waters, savor Mediterranean flavors and discover ancient ruins on your summer holiday? From sun, sea to archaeology, Split has everything you are looking for. Don't forget, Zizoo is at your service to help you find the best boat rentals in Split to get the most out of your holiday along the Dalmatian Coast. Ready to explore the scenic coast surrounding this historic and friendly city? Let's go!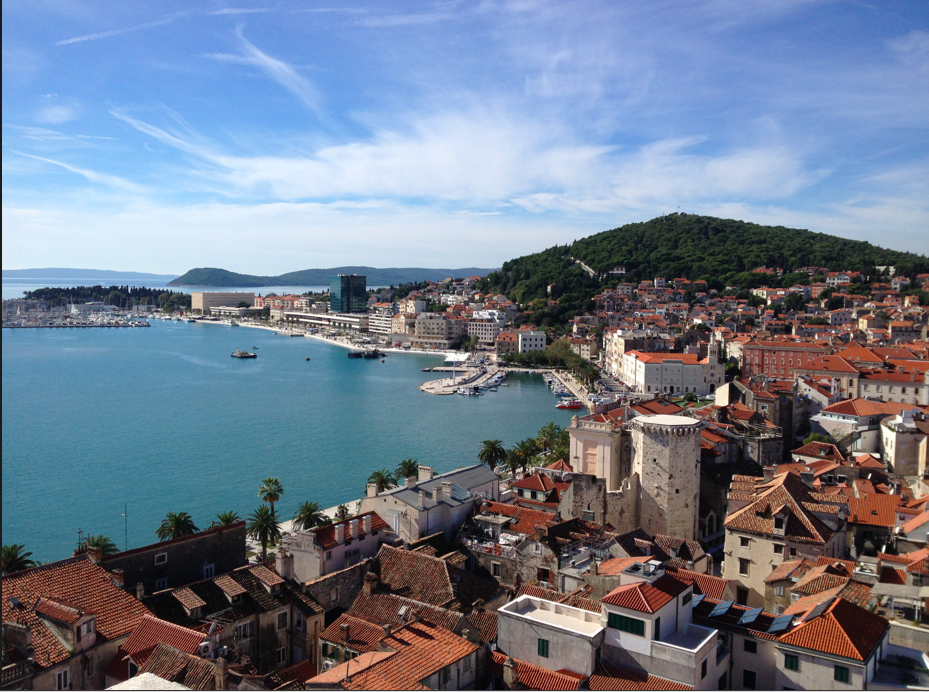 Split is Croatia's second major city and a perfect place to explore and enjoy vast architectural wonders, pristine beaches, stunning islands, vibrant nightlife and extraordinary cuisine. Split was founded over 17 centuries ago when Emperor Diocletian decided to retire near the Roman city of Salona, the ruins of which you can still discover today.

His royal palace was constructed between 300-400 A.D., yet, due to turbulent years in the region following the fall of the Roman Empire, the palace remarkably transformed into the dynamic city you see today. In 1979, Diocletian's Palace and the old city contained within its walls were inscribed on the UNESCO List of World Heritage Sites.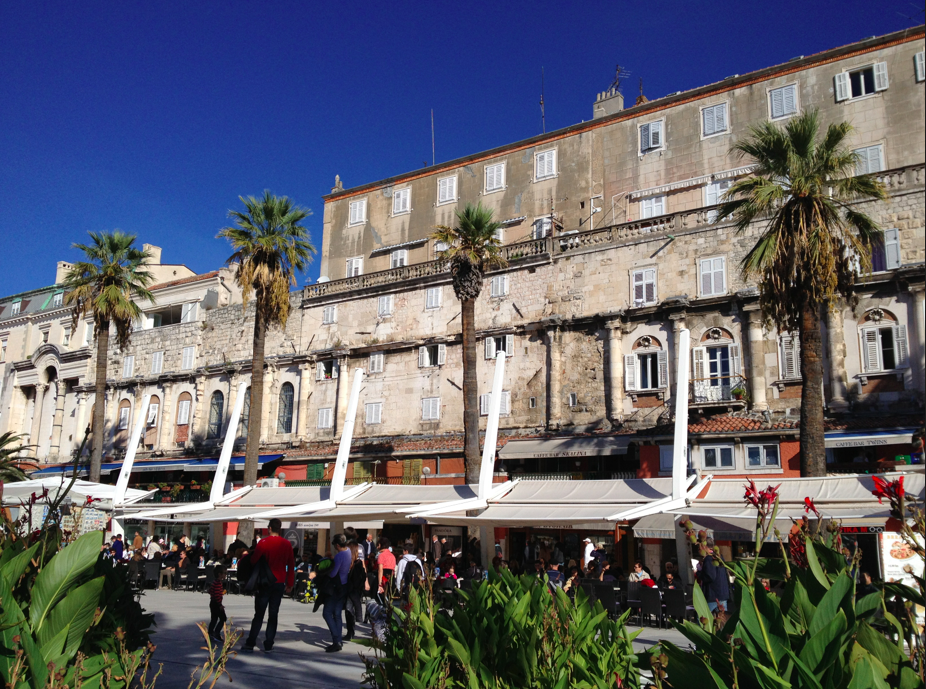 Get your morning started on the Riva, Split's famous seafront promenade. This palm tree lined esplanade is a perfect place to take in the sunrays and sea air while enjoying your morning Kafić (coffee) before discovering what lies behind the ancient walls. Enter through Split's Bronze Gate and take a tour of this incredible substructure with ancient columns and brick vaults that held the Emperor Diocletian's chambers above. Today, the substructure hosts an abundance of cultural activities including plays and art exhibitions as well as some intriguing shops featuring souvenirs and handicrafts.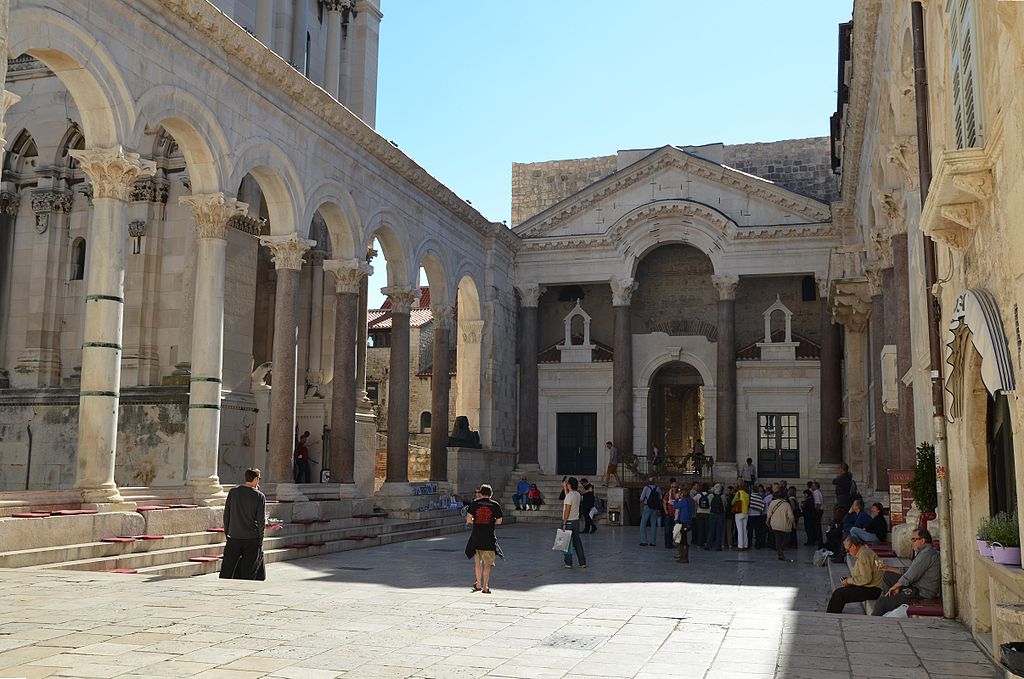 As you head out onto the shining white marble of the Peristyle, the central square of the palace you'll find yourself surrounded by amazing architectural treasures that bear witness to Split's history which spans from ancient Rome to the Renaissance and Baroque eras. This lively public square is still a central part of urban life today. You may find yourself taking a seat around the square to enjoy a concert, experience a wedding celebration or even join in tango dancing under the stars. By the way, Split hosts numerous cultural offerings throughout the year. From various concerts to festivals celebrating local food, wine, or films, you will always find something going on in this lively city.

As you continue to explore the ancient ruins and narrow passageways of the once imperial palace, take time to visit the city's museums and cafés and experience Split's romantic and dynamic nightlife in an open-air bar or club. And let's not forget Split's traditional taverns and modern restaurants that offer delicious food, wine and olive oils. We suggest you take a lunch break at Bajamonti, located in the Trg Republike (Republican Square), a bright and boldly colored Venetian style courtyard that overlooks the port and glistening sea. Bajamonti's Croatian specialties are inspired from traditional recipes and amplified with fresh ingredients and modern twists. The black pljukanci (typical Croatian pasta) with prosciutto, arugula, grana padano cheese in a black truffle and prosecco sauce and the calamari popara (a traditional fish dish) are highly recommended. We also recommend Buffet Fife, a traditional tavern that's popular with natives and visitors. Fife offers big and tasty portions of typical Croatian food in a casual setting. We suggest you start with a serving of traditional cured ham followed by the pašticada (beef cooked in a wine stew and served with gnocchi). And as if your mouth was not watering already, you can learn more about Croatian cuisine in our featured article.
Outside of the palace walls you will find even more incredible offerings. We suggest a walk through Marjan Forest Park, a green oasis enjoyed by both locals and tourists where you can enjoy breath-taking views, relax on beach alcoves or even go rock-climbing.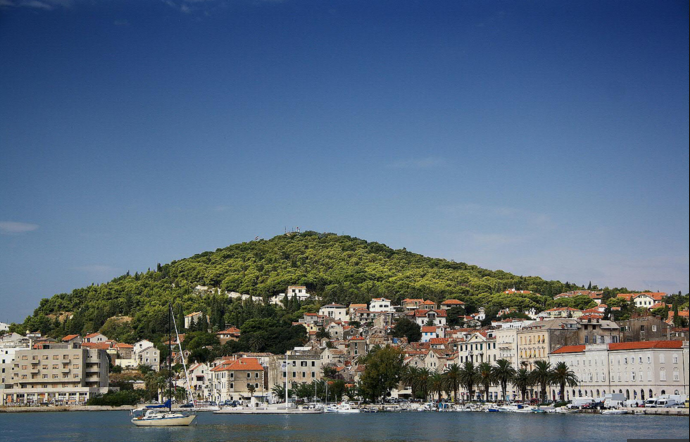 But what better way to explore the turquoise, deep blue and crystal clear waters, bays, grottos, islands and alcoves surrounding the city than by cruising or sailing around the coast? Whether you are looking for a grand yacht, a picturesque sailboat or a cozy cruiser, Zizoo offers you over a thousand brilliant boat rentals in Split. Need a little inspiration for your trip? Check out our sailing route which starts from Split's ancient (but modern) port! After exploring Split, you may feel tempted to discover more of Croatia's stunning beaches. Take a look at our top picks!
Croatia Traveler suggests that best times to take sail are during late spring (April through June and early fall (September through October) when the sea is calm, there are less crowds and when you can still enjoy the pleasant and sunny weather. Plus, April is the perfect time to pay homage to Split's maritime past during the Croatia Boat Show or the Olympic Sailing Week where you can experience the exciting international regatta (boat races). Don't forget, Zizoo is at your hand to help you experience the best of Croatia by sea.