Heather Francis is originally from Nova Scotia, Canada. For over a decade she has travelled the world living and working on boats. In 2008 she and her Aussie partner Steve bought Kate, a Newport 41′ sloop, and have been sailing full-time since. They are currently looking for wind in in the Philippines and plan to do a lap around the planet, albeit slowly. With a ton of experience gathered during her adventures of sailing around the world, she will share her tips on how to spend Christmas on board. Read more to find out how to make the holidays unforgettable this year!
Surviving the holidays on the high seas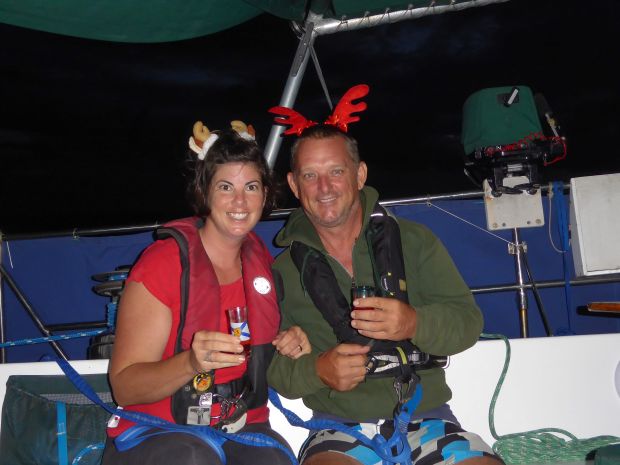 What is it like to spend Christmas on board?
Perhaps one of the most difficult things about being a voyaging sailor is being away from friends and family for extended periods of time. Modern technology helps ease the feelings of isolation, but many sailors struggle, especially during the holidays. Here are a few tips based on my experience, that can be of help when you want to spend Christmas on board.
Prepare and plan ahead
I discovered during the early years that keeping my holiday traditions on our 41′ sloop, Kate, was going to be hard. For starters, I am Canadian, and sailing in the tropics meant that there were no seasonal weather changes to "get me in the holiday mood". The heat also made slaving over a hot stove unbearable, and most of my traditional holiday recipes either included ingredients I couldn't find or suddenly seemed unappetizing in the heat. Not only did we have little room to spare for a tree, we had to make sure it was secure, even in a safe anchorage. Even a string of lights posed a problem; yet another drain out of our batteries. However, after a decade of living aboard, I know that holidays at sea can be just as heartwarming as those celebrated on land.
Like many other occasions on board, the key to a successful celebration is to be prepared. Stocking up in major ports is par for the course for most sailors, but a little special attention around holidays can make all the difference. Whether it's a few special treats to be shared on the day or a favourite bottle of spirits, the crew will appreciate your thoughtfulness.
Being prepared is especially important if you are sailing with kids. Buying a few small gifts while in port will make sure that the little ones will be disappointed if you end up in a remote anchorage for a special occasion. And, if you often sail with other boats that have children, consider keeping a few extra gifts onboard in case your crew gets invited to a special celebration on another vessel.
Create new traditions
Be it a religious festival, a national holiday, or a personal milestone, people gather together at special times to share food and good company. Instead of trying to recreate the meals of holidays past I think it is better to think outside the pot and create new holiday food traditions. Can't find a turkey or cranberry sauce? Why not barbecued chicken and served with a spicy mango chutney. No potatoes on the island? Try a festive rice pilaf instead. I often find those decadent holiday sweets are too heavy for the tropics, so I opt for a no-bake treat or splash out on a nice chocolate bar instead.
Making holiday plans with fellow sailors is a wonderful way to recapture the sense of family and togetherness that many people crave during the holidays. Organizing a potlatch is a popular approach. Not only does it take some of the pressure off the cook, who now needs to prepare only one dish instead of several, but it allows everyone to participate and share in the festivities.
Decoration
Most boaters shy away from too many decorations but even a few festive embellishments will raise spirits on board. And there is no need to rush to the store, just look at what you have on hand. Paper cutouts covered in foil, garlands of popcorn, shells from the beach hung on strings, even a piece of driftwood in lieu of a tree. Those little "boat-made" touches will make your holidays even more special.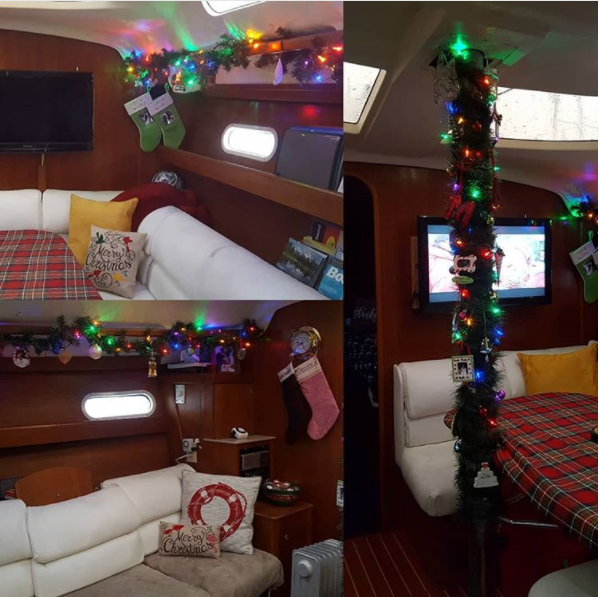 On the occasions that we typically spend surrounded by familiar faces and traditions, it can sometimes feel like you're sinking when in a foreign port. Wherever and whatever you celebrate remember that it's not about expensive gifts or a perfect meal served but about appreciating what you have and the people you get to share it with. Safe sailing and happy holidays!
Thinking about spending Christmas on board this year? We are happy to help you find the destination where you can enjoy some sun during the cold winter days. Spend it with the people you love most and create a memory that will stay with you and your crew for a lifetime.