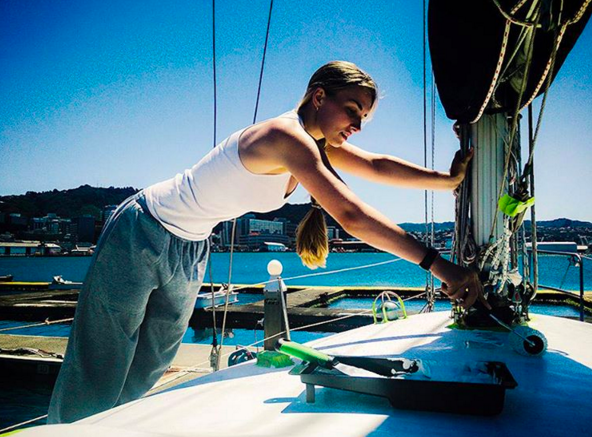 In the latest instalment of our sailing blogger interview series, we've asked Stephanie Dwan (aka Wanderlustsailor on Instagram and Twitter) to tell us about her life on board her home-yacht Thumbsucker. Stephanie, 24, and her fiancé Louis Goodier, 25, moved on to their boat four years ago. Their yacht is a Davidson 28 – about 8.5 metres long. Together, they think they might hold the local record for the smallest boat in their marina that two people have lived in full-time.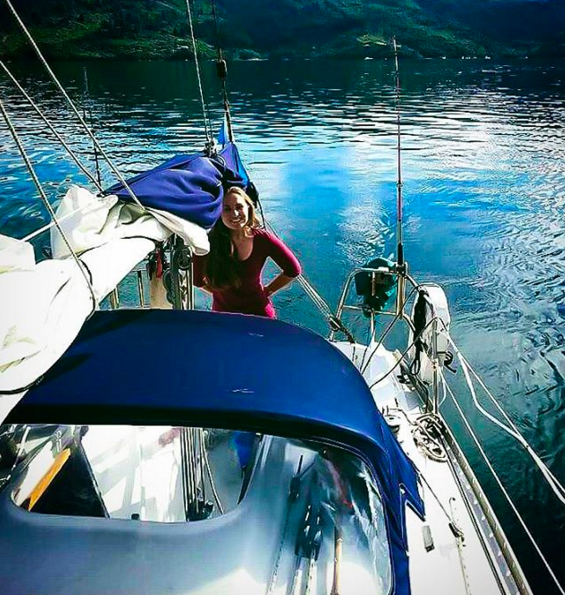 Stephanie and Louis live and sail in New Zealand, although they love travelling overseas every chance they get. Most of the year they both work full-time jobs in the capital city, using Thumbsucker as a sort of strange, inner-city apartment-pad, in Stephanie's words.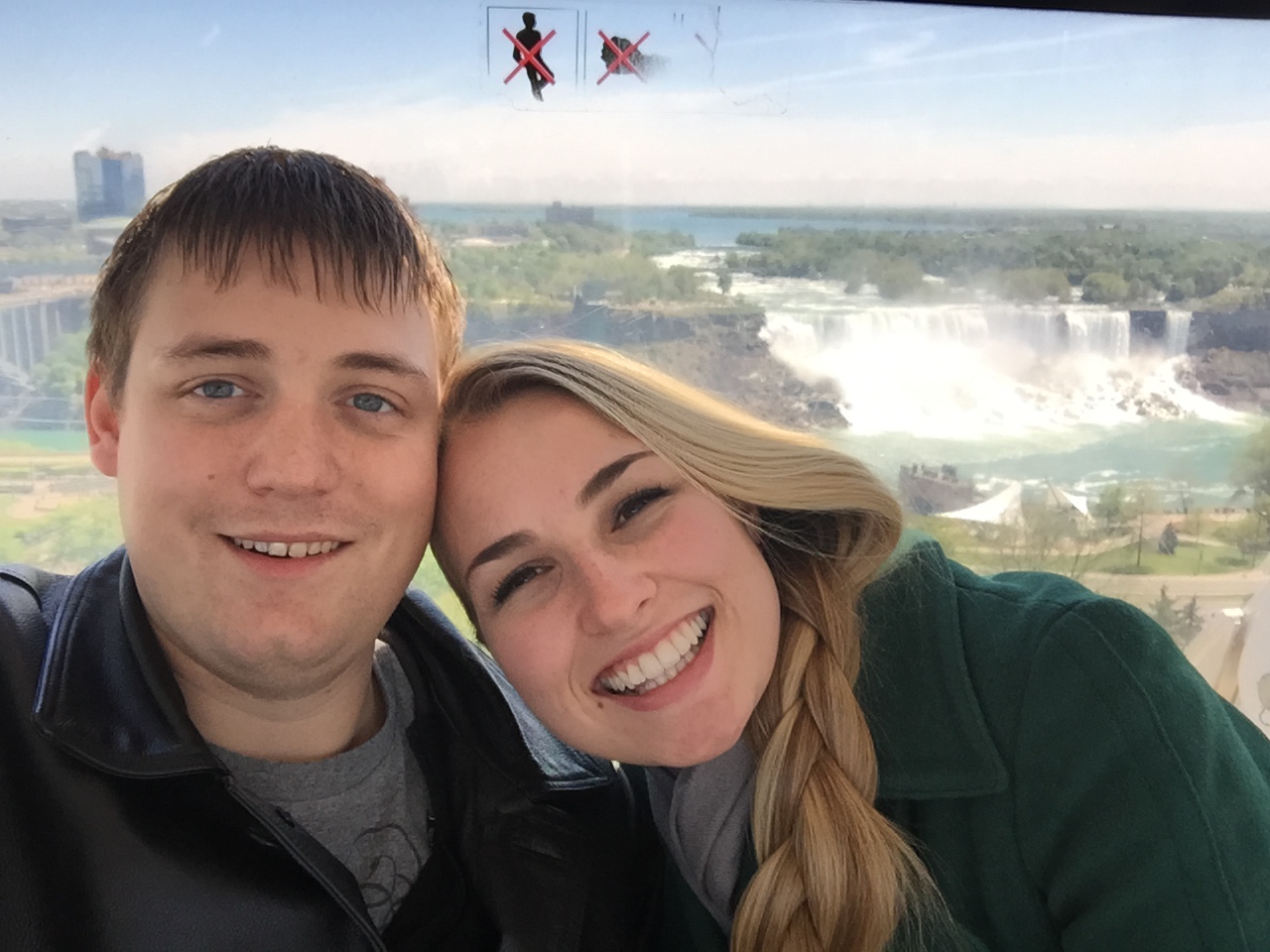 Every year Stephanie and Louis try and get away for a few weeks on the boat over the Christmas and New Year break. During the long afternoons in summer they go sailing in the harbour. They try to catch fish for dinner (Stephanie adds, 'being self-sufficient and all that') on these evenings. They have been known to give up entirely on the fish and have champagne and strawberries for tea instead (slightly less self-sufficient, but far less work!)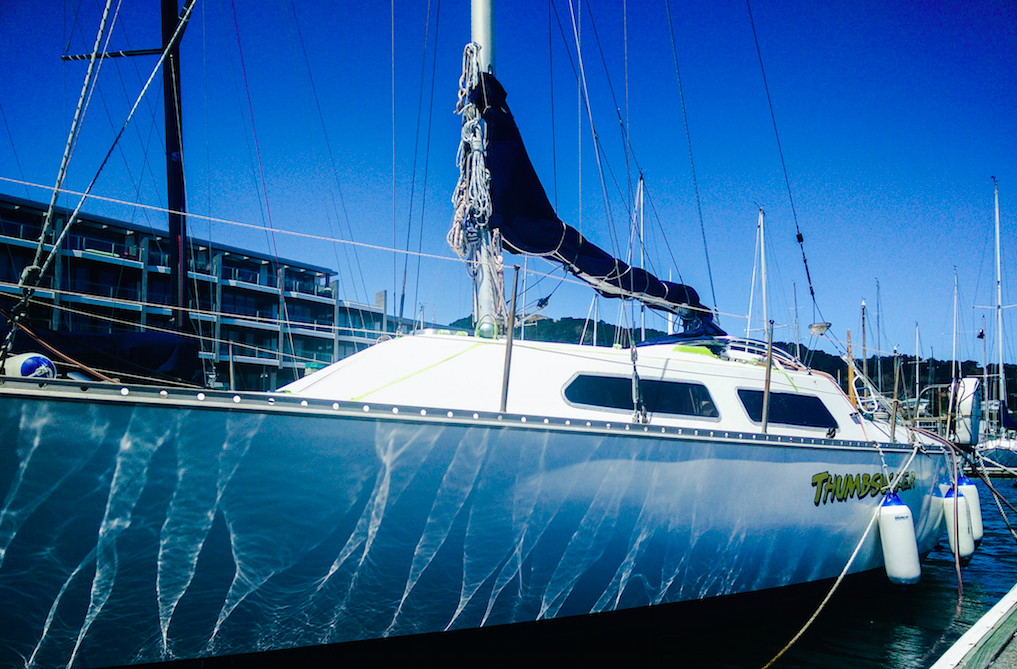 Zizoo: How did you end up living aboard a boat?
Stephanie Dwan: When my fiance and I were 19 years old (and living in an expensive, small, and grotty student flat) we were lucky enough to spend a day charter sailing a beautiful yacht in the Bay of Islands. The yacht was utterly lovely – far better than our current living situation! It is difficult for young couples to become home-owners where we live, so this seemed like a clever way for us to get out of the rent trap and into 'our very own home'. We spent the next two years researching, planning, annoying every sailor we met with questions, and saving up to buy and live on a yacht in the local marina. At last, after many setbacks, we became the extraordinarily proud owners of a little Davidson 28 yacht named Thumbsucker. We have been having intrepid sailing adventures together ever since.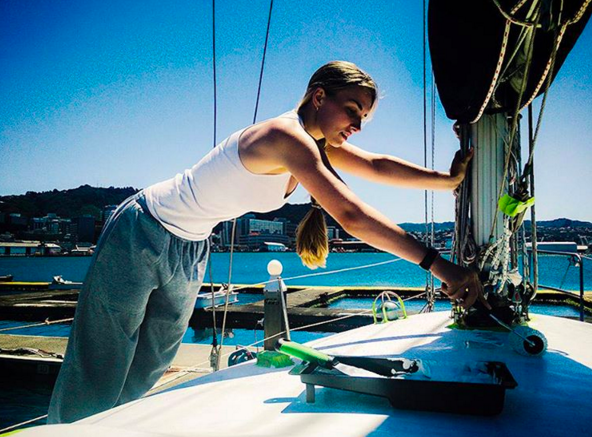 Z: What's the story behind the yacht's name?
SD: Haha everybody asks me this question! Unfortunately the truth is we have no idea, she was named Thumbsucker when we got her. We weren't too thrilled about the name at the time (especially when we had to use our call sign to communicate with big, serious-sounding boats over the radio), but every sailor we met informed us it is bad luck to change a boat's name, unless we were willing to perform a series of awkward rituals we weren't too keen on. She's only small, but she's got everything a big yacht has – only in miniature-size. Perhaps she's Thumbsucker because she reminded someone of a baby yacht in that respect. The name grew on us after a while. I can't imagine her with any other name now.
Z: How long have you been sailing for?
SD: We had absolutely no experience sailing a yacht before we bought Thumbsucker. We had bought a boat purely with the intention of living aboard while paying it off, and then selling it and using the money as a deposit for a house. My family have a long history of sailing, but sadly they sold their yacht when I was a baby so I never learned much more than the terminology.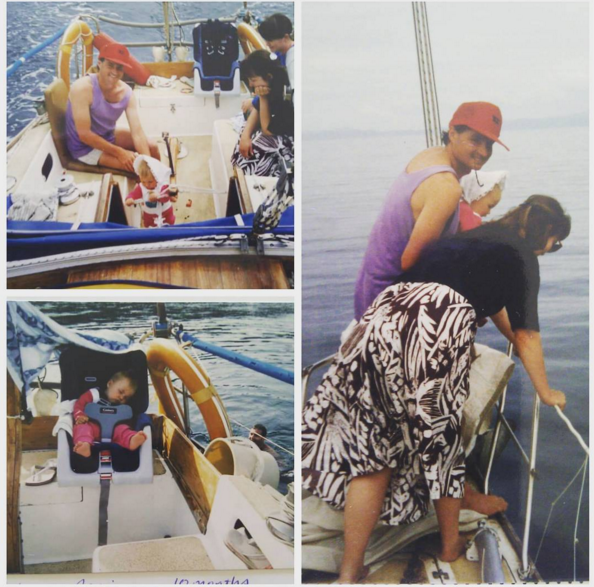 Growing up my parents used to tell me so many amazing stories about all the adventures they used to have – it was always something I wanted to try for myself. Though it was never our intention, my fiance and I fell rather in love with sailing. We have lived on Thumbsucker for the last four years, and spent our spare time sailing as much as we can.
Z: What's your favourite thing about living on a boat?
SD: It's tough trying to choose one favourite thing… For living aboard I love the freedom and flexibility of not being tied down to one place. If we ever want to move cities, or go away on holiday, or just go out and catch a fish for dinner, we simply cast off the mooring lines and take all our possessions with us. No need to pack! It's also a great reason to avoid accumulating lots of 'stuff' we don't actually need. Our life has become more about collecting memories and experiences rather than material things.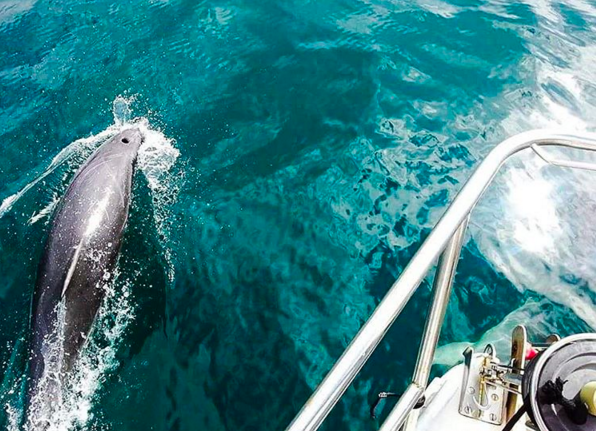 My favourite thing about owning a boat is discovering and exploring beautiful and remote places and all the amazing whales, dolphins, and sea creatures that live there. These places are usually inaccessible without owning your own boat. We also really enjoy the social aspect of boatlife too. We have met so many wonderful people and forged such strong friendships along the way. The boat parties aren't bad either!
Z: What are some of the challenges you've experienced?
SD: Our first ever trip was huge for us. We bought Thumbsucker in Auckland and spend a week sailing down the coast through cyclone Fina to get to Tauranga – with no idea what we were doing! We were lucky my Dad and one of his sailing friends were there to help us, but we still dealt with our fair share of challenges on that trip. We had to learn a lot about sailing very quickly, for example:
The ocean is seriously, fantastically, wonderfully terrifying
Pushing on stanchions can pry holes in the deck
Sailing hard for a day without realising the deck has essentially become a colander results in the entire ocean pouring into your bed/bunk/carpet/bilges/food/sleeping bag/week's worth of never-to-be-dry-again clothes
I get terribly, hideously, monstrously sea-sick
It's a bad idea to sit next to the boom when going downwind at great speed while flying a spinnaker
Being knocked unconscious by said boom really hurts, and severely limits one's ability to continue crew duties
Phone GPS apps are great, until the moment they encounter a large, electrical storm.
Navigating by charts, sextants, and compasses is hard and terrifying. A good GPS is not something you should avoid spending money on
1.9 metre inflatable dinghies cannot cope with four large adults and will actually sink if you try
Z: What are your favourite sailing destinations?
SD: Most of our sailing has been in the Marlborough Sounds in the South Island, and off the Coromandel Peninsula up north. Some of my favourite sailing haunts are:
Endeavour Inlet – one of the most beautiful cruising spots in New Zealand
Double Cove – a marine sanctuary where the fish are so tame they come right up and eat out of your hands
Historic Ship Cove – Captain James Cook's favourite anchorage in New Zealand. There's a short hike I like to do ashore to a waterfall that you can drink from and shower under.
Peachgrove and Coralie Bay up on Great Mercury Island – both look like post-cards with glorious white sand that squeaks between your toes. We've spotted killer whales and humpbacks a couple of times up there too which is always fun.
Southeast Bay on Mayor Island off the coast of Tauranga – the cliffs are largely comprised of obsidian glass, so they are deep black and very sparkly/glossy in the sun. The water is deep but so clear you can see every shell on the seabed 14 metres down. Great swimming, but only if you don't mind stingrays. There are huge ones living here who are used to being fed by yachties – their friendliness is easily mistaken for something much scarier if you're not aware of them.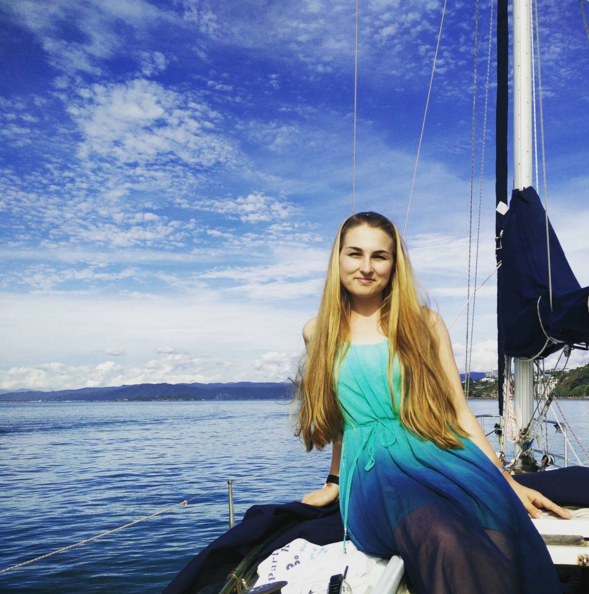 Z: Do you have any memorable stories about your life at sea?
SD:My favourite memory comes from the same trip I spoke about earlier – the one where everything that could go wrong, did go wrong. We had been pushing against a 40 knot gale into huge waves and relentless rain all day to get to Great Barrier Island. By midnight we were exhausted, wet, sick, and completely blind as a thick sea fog engulfed us. The storm was so bad our GPS stopped. We were relying on charts, compass, and my dad's memory (having last visited the bay we were aiming for over twenty years ago) to navigate past the many rocks between us and a safe anchorage. Just as we were about to give up and head back out to sea, a pod of dolphins appeared out of nowhere on either side of us. They leapt, dived, squealed and chattered happily at us, all while guiding us safely through the rocks and into the anchorage before disappearing again.
Z: Where are you headed to next?
SD: We're currently in the middle of re-painting Thumbsucker's decks and cockpit, so she'll stay where she is for a while yet. In two week's time we are heading back to the Marlborough Sounds to stay with our friends on their boat. We don't know yet where we will be exploring, we will probably just make it up as we go along and follow the wind, see where it takes us.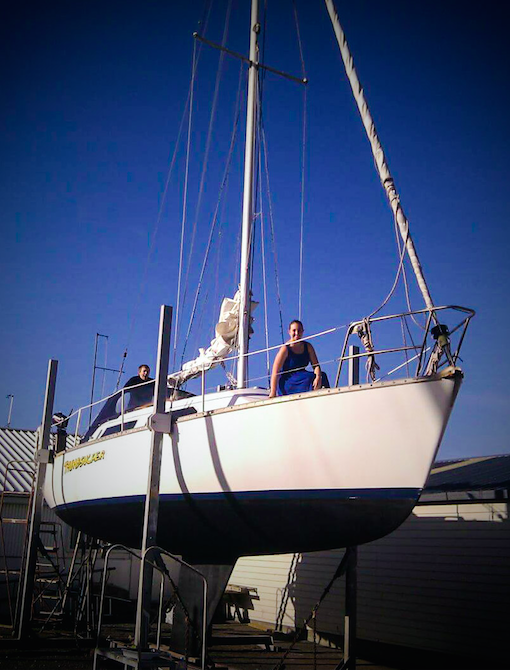 Z:What's the best piece of advice you can give to someone who wants to follow your steps?
SD: "You can't believe how bleeding scary the sea is! There's, like, whales and storms and s**t! They don't bloody tell you that!" ― Libba Bray, Beauty Queens.
Develop a healthy respect for the ocean and never underestimate waves, tides, or a stiff sea-breeze. Google EVERYTHING! Research, study, and learn everything you possibly can about the weather. Always have ginger nut biscuits on standby – they cure sea-sickness (and taste great!). Understand how your boat handles in different conditions and know her limits. Ask questions, all the time, of everyone you meet – every person you encounter will have something to teach you. Be generous with your tools, time, advice, elbow grease, and materials, etc. with other sailors and they will always return the favour. If you don't have much to offer, a box of beer is always a good idea. Learn how to change the engine oil. At anchor, always have an escape route planned in case the weather turns. Check your anodes. Join your closest yacht club and sail as much as you can on other people's boats. Don't break the toilet on a long trip (or ever, preferably). Learn to love sanding – you'll be doing a LOT of it! Take the plunge, throw yourself all the way out of your comfort zone and have a blast. Good luck!
Here at Zizoo, we love sailing blogs – and we're always on the look out for more. Read some of our previous entries with Team Labyrinth, Turf to Surf and Wind Traveler.