Charter a luxury yacht in Turkey and discover these beautiful, hidden Mediterranean islands.
A yacht charter in Turkey is one of the best ways to discover the turquoise coast. With the freedom to explore the rugged coastline at your own pace, you'll discover ancient ruins, white sand beaches and breathtaking bays.
Check out our guide to Turkey's best hidden islands, and charter a yacht in Turkey now!
Alibey
Covered in scented pine trees and surrounded by breathtaking beaches, it's not surprising why the island of Alibey is top of our list. Also known as Cunda, after the main town on the island, Alibey is located just off the coast of Ayvalik. Alibey's cobblestone streets are quiet and primarily busied by locals. Its charming harbour is full of mouthwatering seafood restaurants and white-stone houses. But outside the town centre, our favourite parts of the island lie to the west – where you'll find private swimming bays with crystal clear and beautiful white sand beaches – and the north – which holds great hiking routes and breathtaking scenery in the Paterica Nature Reserve.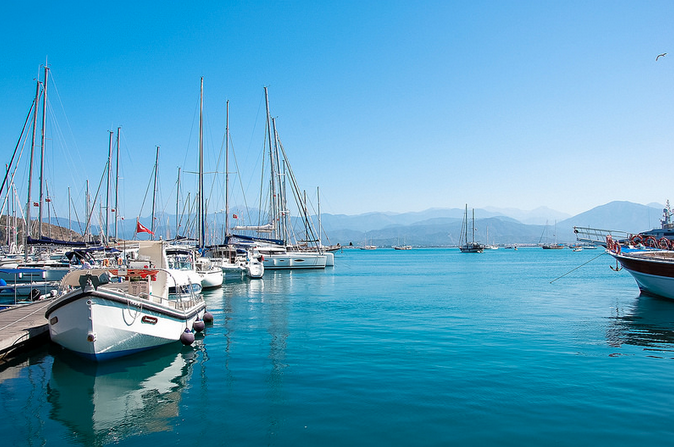 Tersane
Tersane is the largest island in the beautiful Gulf of Gocek and Fethiye. We'll never forget its bright blue water and beautiful bays hiding sunken ships and ancient walls. Yachts can enter the picturesque harbour in the channel on the northwest of the island. Also in this corner of the island you'll find a protected bay that makes the perfect anchorage for a day of swimming and snorkelling. Charming restaurants are scattered among Byzantine ruins waiting to be explored. Summer Port, on the northern side of the island, has a great restaurant and swimming area for a relaxing overnight stop.
Gokceada
The name Gokceada translates to 'heavenly island', and they're certainly not wrong. Known for the fantastic olive groves that cover the island, Gokceada is situated near the Gallipoli Peninsula, by the Greek islands of Lemnos and Samothrace. Its sandy beaches and Greek way of life draw visitors from Istanbul during the summer, but sail a little further and you're sure to find a stunning white sand beach all for yourself. Gokceada is the perfect island for snorkelling or scuba diving among grouper, octopus and other native marine life, and hiking and windsurfing are also popular.
Kekova
An uninhabited gem lying between Kas and Antalya, the island of Kekova is a must-see if you're in the region. Underneath the crystal clear water lie ancient tombs and villas that were left in ruins after an earthquake in AD240. Kekova is the perfect stop for a taste of sunshine, history, and hidden Byzantine and Lycian ruins. While there are many no-swim spots on Kekova, designed to prevent visitors from taking pieces of ancient relics as souvenirs, it's easy to find a secret swimming hole among the unspoilt nature and turquoise water of its coastline.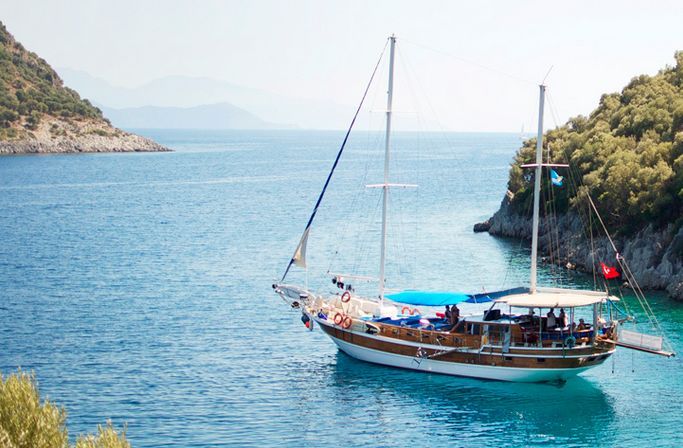 Bozcaada
Bozcaada may be one of Turkey's best kept secrets, but it is also fashionable with in-the-know weekenders from Istanbul, and thus it is slightly more expensive than some of our other favourite Turkish islands. This small island, however, is well worth the trip, with incredible beaches, beautiful scenery and delicious locally produced red wine. Its quiet towns, full of vine-clad houses, hardworking fisherman and tired donkeys, is a welcomed escape from the bustling cities of Turkey's mainland. The beaches on the southern part of Bozcaada are some of the best in Turkey, and we can guarantee that once you happen upon this tiny little piece of paradise you won't be leaving for a while.
Dreaming of a trip to these beautiful Mediterranean islands? It's totally possible – with our massive end-of-summer sale, booking a yacht charter in Turkey is simple, quick, and affordable.
Thank you to Eric and Lisa for the excellent images from Flickr. Please note all were under creative commons licensing at the time of publishing.