Yacht Charter Holidays in Biograd
Visit some of Croatia's most beautiful parks and towns with our 7-day itinerary
There are several options for island hopping and exploring the coast when you charter a boat in Biograd. If you would like to do a lot of a sailing during your boat holiday in Croatia then this sailing route from Biograd to the Kornati Islands and Krka National Park is for you. Unlike our other Biograd sailing itineraries, which plan for no more than three hours sailing per day, this route allows you to get in plenty of sailing time (five-six hours per day). You will also have many opprortunities to discover some of Croatia's most popular destinations.
What you can do and see on this route

Visit Kornati Islands and Krka National parks, go diving around Telašcica Bay, visit the charming island of Primošten and more.
This route is ideal for:

Groups of families, friends or couple sailors who want to get many sailing hours in during their holiday in northern Dalmatia.
Best time to go sailing:

April-September
Duration

7 Days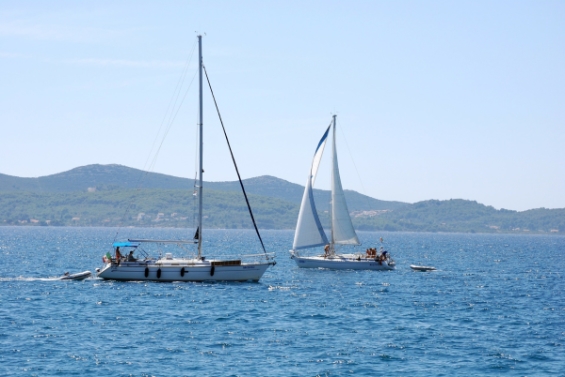 Set between the two famous historic cities of Zadar and Šibenik, Biograd na moru is the perfect starting base for your sailing holiday in Croatia. Our sailing route from Biograd takes you to some of the most impressive natural sites and coastal cities northern Dalmatia has to offer.
After checking into your yacht charter in Biograd, head out to sea around the larger island of Pasman to the island of Žut, a popular starting point for sailing trips to the Kornati Islands National Park. On the island, you'll find an ACI marina where you can spend the night, but if you prefer a more private anchorage, we recommend that you spend the night in the bay of Hiljača, which offers buoys. Alternatively, you can enjoy a shorter sailing period to the island of Vrgada. This quiet island is mostly forested and is distinguished by its golden beaches. You can find anchorage in the bays of Kranje or Sv Andrija or moor at the small village harbour.
Day 2: Žut or Vrgada to Telašcica
From Žut or Vrgada, you will sail north-west to the Telašcica Nature Park on the long island of Dugi Otok. You will need a ticket to enter the park, which can be purchased from park officials as you enter the bay. You can find more information about anchorages on the park's website. After taking a swim in the crystal clear waters in the bay, you'll have time to explore the natural wonders of the park. The park is famous for its iconic white cliffs, which offer incredible views of the Adriatic Sea.
While on land, you may see one of the donkeys which have been rescued from abandonment. The donkeys are friendly and love sweets, yet do be careful if approaching them. You may also be lucky enough to spot a family of dolphins that swim in the park's waters. The park has also been an important site for archaeological findings. In the evening, you can enjoy a dinner at a tavern in the bay.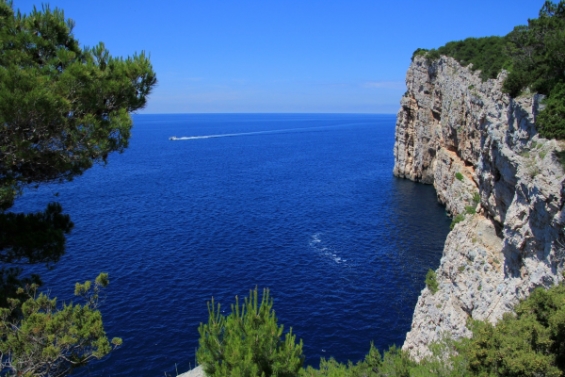 Want to find a boat for this route?
Make a request using the button below and we'll find you the perfect boat.
+44 20 3318 3641
Mon-Sun: 9-9pm CET | Sat-Sun: 11-7pm CET
Day 3: Telašcica to Ravni Žanak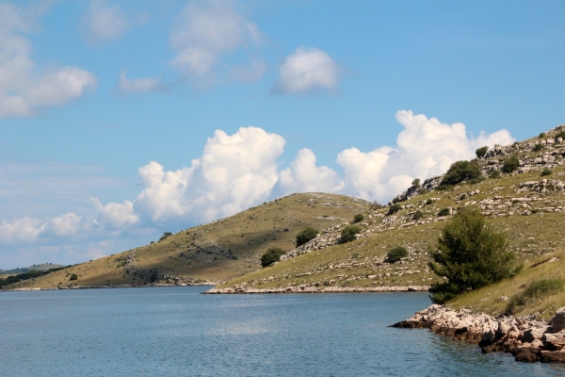 If you are an avid diver, we recommend a morning spent diving around the island. After obtaining a permit, you will be able to take a closer look at the marine life under the waters that surround Telašcica. Or you might like to go for a swim in the park's warm salt lake before sailing to your next destination of Ravni Žanak. Enjoy cruising down the passage between Kornat and the island clusters that make up Kornati National Park as you make your way south. You can stop in one of the many hidden coves and inlets along the way.
Žanak is the perfect place to stop for a relaxing day on the shores of the intriguing, nearly flat island. You can drop anchor in either bay or dock at Konoba Žanak's pier, which attracts many sailors throughout the season. You'll be amazed by the vibrant electric blue, sapphire and emerald green waters that line the island's shore. Žanak is also famous for its sunsets.
Day 4: Ravni Zakan to Primošten
On day four of your sailing route from Biograd, you will leave the cruising grounds of Kornati Islands National Park and sail south-east to the mainland of Croatia. Primošten is a pleasant resort town on the sea that is home to many picturesque beaches and excellent diving opportunities. You can either stop for the night in Luka Primošten anchorage, which is equipped with mooring buoys or anchor in U. Mala Raduča. Close to Primošten is Babic vineyard, which makes an excellent red wine. If you are a wine lover, make sure to take a trip to the vineyard. Wander the quaint streets and perhaps restock on any supplies you might need during your stay in Primošten.
Learn more about what to do and see in Primošten with our guide.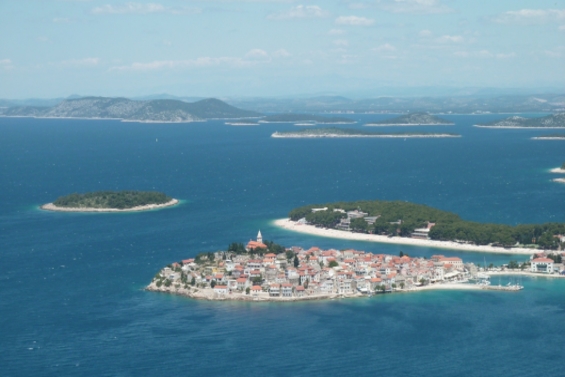 Day 5: Primošten to Krka National Park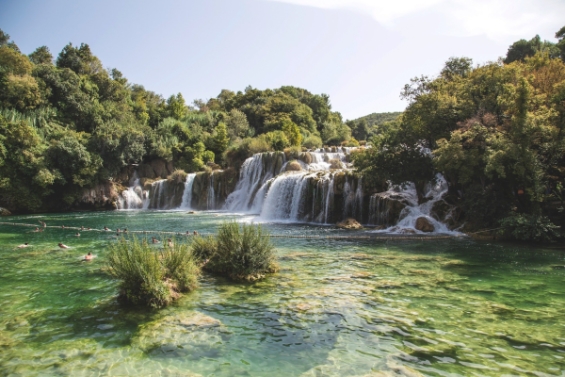 Our sailing route from Biograd takes you to some of Croatia's most impressive and beautiful parks, including your next destination: Krka National Park. Famed for its incredible waterfalls, Krka National Park is an incredible oasis of rare and threatened species of flora and fauna.
The park is not accessible by private boat, but you can cruise up Krka River on your chartered yacht and stop in Zlarin where you will spend the night moored at the ACI Marina in Zlarin. Please note, that it is not possible to anchor in the river overnight. From the marina, you can take a waterbus up to the park where you can experience the Krka's famous waterfalls. You can also visit some of the incredible heritage sites, including ancient ruins, remains of medieval fortresses and monasteries within the park.
Day 6: Skradin to Šibenik and Prvić Luka
After a relaxing day in Krka National Park, you can make your way back down the river to the charming town of Šibenik. Treat yourself to lunch in the historic centre of Sibenik and take the time to explore its cultural monuments, including St. James' Cathedral, which was designated a UNESCO World Heritage Site. Check our guide to yacht charter holidays in Sibenik for more tips on what to do and see in the Old Town and its surroundings.
After a nice stay in Šibenik you will continue out to sea to the island of Prvić, which is part of the Šibenik archipelago. We recommend that you use one of the mooring buoys in Prvić Luka, the first inlet that you'll see upon approaching the island. The island is famous for the burial site of Faus Vrancic, the "Croatian da Vinci". The island is home to a lovely seaside village where you can dine happily in the evening.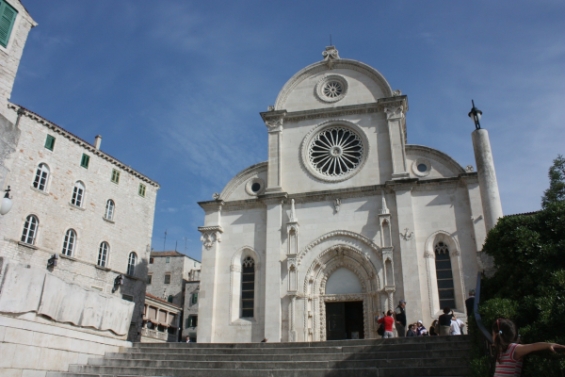 Day 7: Prvić Luka to Biograd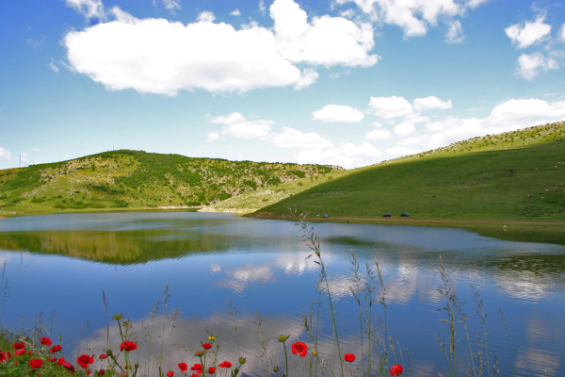 On the last day of your journey, you will travel up the Dalmatian coast back to your yacht charter in Biograd. Take your time as you sail past the gorgeous islands and islets that make up the Šibenik archipelago. You might want to take a break at a secluded bay to bathe in the warm waters of the Adriatic or stop for lunch at a smaller island village or on the popular island of Murter.
After checking out, relax at one of the bars or restaurants that are found in and around Biograd's marina. If spending more time in Biograd, you can explore nearby wonders like Lake Vrana, the largest lake in Croatia.
Get more tips for your yacht charter holiday in Biograd, check out our guide.