Tour the Kornati Islands from your Biograd yacht charter
A 7-day island-hopping itinerary
Discover the famed Kornati Islands with our 7-day sailing route from Biograd na Moru on your sailing holiday in northern Dalmatia. This route is perfect for groups or couples looking to relax and explore the tranquil, surreal islands that make up Kornati National Park. Make sure to pack your snorkelling gear and a pass to enter the protected national park then get ready for an unforgettable trip with your Biograd yacht charter.
What you can do and see on this route:

Enjoy relaxed sailing, swimming breaks in remote and secluded bays, walking or hiking in the Kornati Islands and savouring traditional Croatian dishes and wine.
This route is for:

Families and sailors looking to enjoy a nautical paradise of islands and islets.
Best time to go sailing:

April-September
Duration:

7 Days
Day 1: Biograd to Kaprije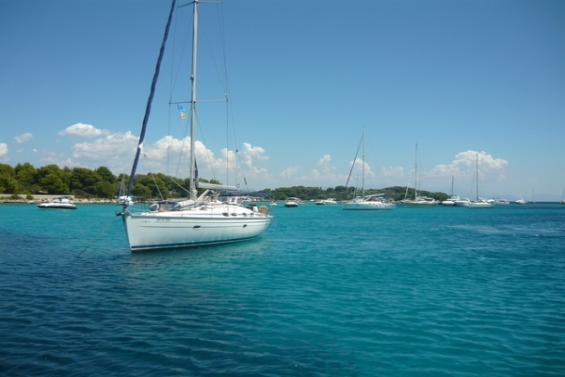 Before departing from your yacht charter in Biograd na Moru, enjoy a stroll and lunch in the quaint seaside town. We recommend you try some Dalmatian seafood dishes like cuttlefish risotto, baked octopus or shrimp buzara style or one of these Croatian specialities. Then head to your yacht charter in the well-known marinas of Kornati or Šangulin and begin your first day cruise to Kaprije.
Located in the Šibenik archipelago, Kaprije is a quiet island that remains untouched and pristine. Here you will be able to get a taste of true Croatian island life in its quaint fishing village. The peaceful island got its share of fame as the setting for the Oscar-awarded film Mediterraneo. Go for a swim in the crystal clear waters that surround the island and enjoy an authentic dinner in one of about a dozen knobas around the village. Well-sheltered from the wind, you will have a pleasant night under the stars docked in the village harbour or at one of the anchorages around the island.
Day 2: Kaprije to Ravni Zakan (Kornati)
On day two, you're already well on your way to the Kornati Islands. Please note that you will need to have a pass for your yacht. This can be purchased in advance in Biograd at a discounted rate or you can pay directly at the park.
Spend the day out at sea testing your skills in this sailor's playground and lounging on the deck of your yacht. You might also like to take a dip in the Adriatic or, if you requested a paddle board, glide on the calm waters around the bay. It's a short sail to the small island of Ravni Žakan, which is part of the National Park and the perfect spot to rest for the night. Enter the Bay of Žakan where you can moor at the pier as a guest of the seafront restaurant, Žakan. There you can enjoy a plate of traditionally prepared lamb or fish and savour the flavours of the land. Make sure to try a glass of wine which comes from the vineyard behind the restaurant.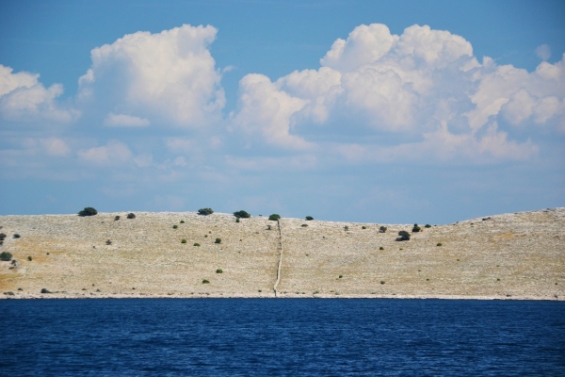 Want to find a boat for this route?
Make a request using the button below and we'll find you the perfect boat.
+44 800 151 0165 (toll-free)
Mon-Fri: 9-9pm | Sat-Sun: 12-8pm
Thanks for your request! Our service team will contact you shortly.
Day 3: Ravni Zakan to Katina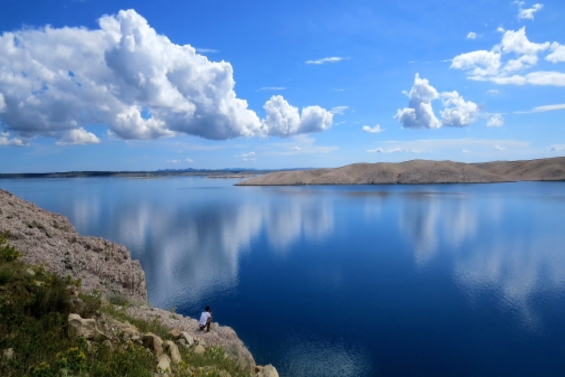 From Ravni Žakan, our sailing route from Biograd to the Kornati Islands will lead you through the straight between the larger island of Kornat and the small islands and islets that make up the park. Sail directly to your next destination, Katina, or take your time winding in and out of the unique island chain. Drop anchor in one of the secluded bays for a swim or explore the islands by foot before you set sail to the island of Katina.
As a link between Kornat and the more lively island of Dugi Otok, the uninhabited island of Katina is great for a restful stay. Though uninhabited, the island is home to one of the area's most popular restaurants: MARE. Here you can moor for the night at the pier and dine on fresh local cuisine. Alternatively, there are mooring buoys at Mala Proversa, anchor in a cove or bay or tie your boat to the pier at Vela Provers.
Day 4: Katina to to Dugi Otok
On the 4th day of our sailing route, you will enjoy a relaxing cruise from Katina to the neighbouring island of Dugi Otok. Dugi Otok, which translates to "long island", is characterised by its welcoming seaside villages, majestic cliffs and lovely beaches. Directly across from Katina you will find Telašćica Nature Park. Mooring in the Telašćica' bay also requires a ticket for private boats, which can be purchased directly from the park authorities. An afternoon spent wandering in the park is highly recommended. Visit the unique salt lake of "Mir" and take a walk up the mountain to take in the stunning views from the towering cliffs.
From Telašćica bay, you will make your way to Sali, the island's main town and your home for the evening. In Sali, you will be warmly greeted at the harbour, which is right in front of the town. Here you can re-provision your boat at the market if needed and then enjoy a big Croatian meal accompanied by the island's wine.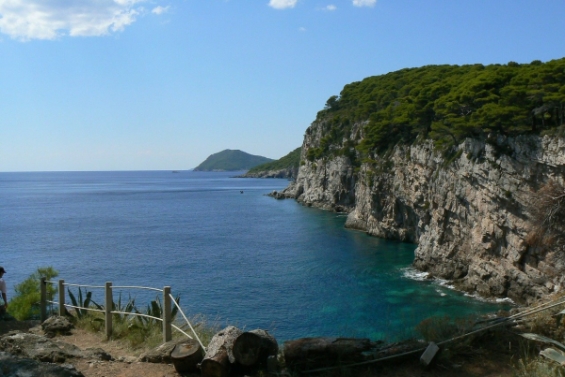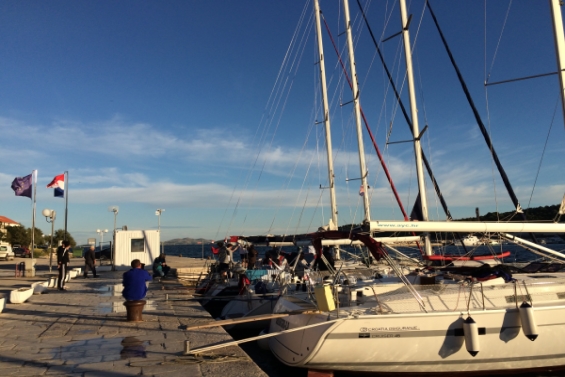 From Sali, you will make your way back down the coast to the island of Žut. Žut, which is located between the islands of Pašman and Kornat, is home to an ACI marina that offers over 100 berths and several anchoring buoys. Part of the Kornati Islands, Žut is a tranquil island oasis surrounded by the vibrant blue waters of the Adriatic. There are some holiday rentals on the island and occasional visits from sheep herders and fishermen, but other than that, the island is uninhabited.
You will find many calm bays and secluded beaches around Žut. If you rented a kayak or paddleboard, this is a great opportunity to relax on the calm waters. If not dining on board, you can have dinner or lunch at the island's restaurant. Fešta Restaurant offers traditional island meals such as lobster and grilled fish. Within the restaurant, there is also a small shop to stock up on essentials.
After a pleasant day discovering the bays and islands that make up the Kornati Islands National Park, it's time to begin your journey back to the mainland. From Žut Marina it's about a 5-7 mile sail south-east to reach the Dalmatian island of Murter, which is the largest island of the Sibenik archipelago. Here you can moor in the well-equipped and modern Marina Hramina which is located in the protected bay of the same name.
Murter is strongly connected to its traditions in agriculture, fishing and tourism and is also well known for its olive oil among other gastronomic products. The island is also valued for its heritage. One of Croatia's most important underwater discoveries was found off the coast of Murter. There, archaeologists identified ruins and artefacts from the ancient Roman city of Colentum and a Roman period shipwreck. Though mostly submerged underwater, the ruins of Colentum are also visible above ground and can be visited during your stay in Murter.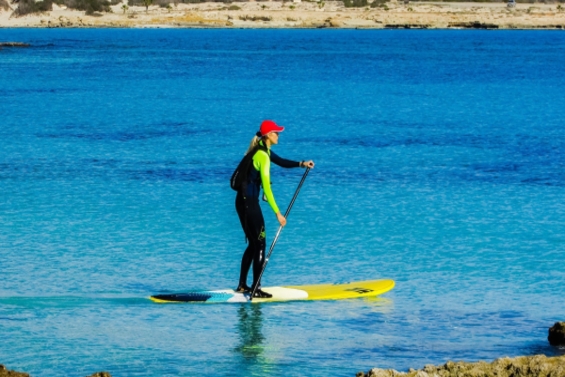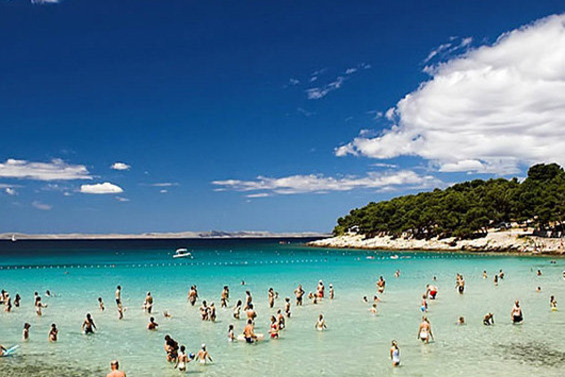 Spend the morning exploring the island of Murter or start sailing back from Marina Hramina to your yacht charter in Biograd. Murter is home to several nice beaches including Čigrađa, which also has a small pier. This beach is suitable for children due to its location in a long narrow cove. The most popular beach on the island is Slanica, where you can find many beach bars, restaurants, volleyball courts and shops to rent jet-skis.
It's a pleasant trip back to Biograd. You'll find many small islands and islets where you can drop anchor in one of the sheltered bays for a quick swim along the way. Once back in Biograd, relax on the pebble beaches around the town or treat yourself to a fine home-cooked meal in a local knoba.