Split Yacht Charter Holidays: Island Hopping in Dalmatia
Set sail for 7 days from your yacht charter in the ancient city of Split
Spend a week sailing along the picturesque coast of Dalmatia from your yacht charter in Split. On this route, you'll have the opportunity to explore the historic treasures, lovely beaches and sun-drenched vineyards on the islands of Central Dalmatia. Get insider tips, anchorage recommendations and more with our 7-day sailing route from Split.
What to see and do on this route:

Visit medieval towns, discover the Dalmatian islands, relax on pebble stone beaches, bathe in the warm Adriatic Sea, savour Croatian seafood specialities and try fine wines in local Konobas
This route is for:

Families, couples, explorers and all novice and experienced sailors.
Best time to go sailing:

April-September
Duration

7 Days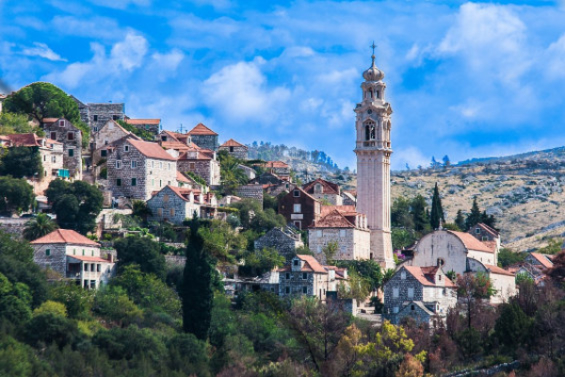 Before checking into your yacht charter in Split, make sure to take some time to wander around Diocletian's Palace. You might also like to get a coffee on the palm tree-lined Riva. The boardwalk offers a splendid view of the sea and nearby marina.
Your first destination from Split is the island of Brač, which is about 10 nautical miles south-east from the mainland. In Brač you can spend the night in the Bay of Bobovišća or in the marina of Milna. Milna is a unique fishing village known for its characteristic stone houses. In the peaceful Bay of Bobovišća you will find buoys as well as a village with a small jetty. The bay is also well sheltered from the wind.
*Tip: On Brač you should not miss a visit to Zlatni Rat - one of the most beautiful beaches in Croatia.
After a restful night in Brač and perhaps a quick swim, it's time to set sail to the next island: Vis. It's about 20 miles out to sea to Komiža where you will be staying for the evening. Located on the western coast of Vis, Komiža is found in a lovely bay between the deep blue waters of the Adriatic and the slopes of Mount Hum. Here you will find moorings on the harbour quay, and buoys in front of the village. In the case of strong winds, the city of Vis, which has more moorings than Komiža, is recommended.
If you want to go swimming in Vis, you can go to the town of Gusarica or the Bajcizevo, a little further away. Komiža has served as a prime fishing port since the 12th century and has maintained its strong ties to the sea throughout the centuries. For a traditional meal, try the seafood at the Konobas Barba and BAKO, located on the Ribarska fishing promenade.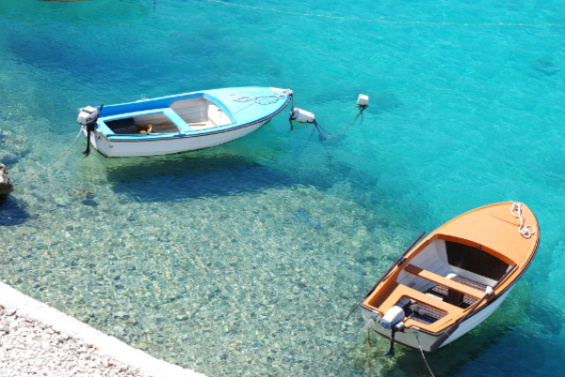 Want to find a boat for this route?
Make a request using the button below and we'll find you the perfect boat.
+44 800 151 0165 (toll-free)
Mon-Fri: 9-9pm | Sat-Sun: 12-8pm
Thanks for your request! Our service team will contact you shortly.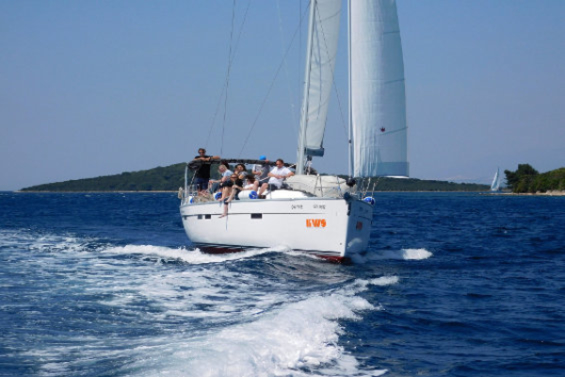 From Vis, continue southwards to a relatively untraveled island in Croatia: Lastovo. From Vis, it is 35 nautical miles to Lastovo. You can either spend the evening in the Bay of Zaklopatica or you can opt for the Bay of Skrivena Luka, where you will find a small private marina. In the Bay of Zaklopatica you can moor in front of one of three restaurants and enjoy a meal of fresh seafood, grilled meats or other traditional island dishes.
The island of Lastovo (called the "Imperial Island" by the Romans) is ideal for a relaxed hike, where you can visit small villages surrounded by green hills. Home to fewer than 1,000 inhabitants, the secluded main island and over 40 smaller islands and islets that make up the municipality will surely impress you with its classic Mediterranean charm.
Day 4: Lastovo to Korčula
Korčula, located 20 miles north of Lastovo, is your next stop on your island hopping holiday in Croatia. The town, which shares the same name, is located on the eastern side of the island and has a well equipped ACI marina. If you do not want to be in the marina of Korčula, you will also find numerous anchor bays here, especially on the north coast of the island.
Korčula is the perfect mix of beautiful natural landscapes, old traditional towns and idyllic beaches. The Old Town of Korčula is definitely worth a visit. It is often called "Little Dubrovnik" because of its beautiful architecture, which shows the influence of the Venetians in Croatia.
No visit to Korčula is complete without savouring the island's local seafood specialities. A visit to a local winery is also worthwhile. You can learn more about vineyards and wines in Korčula with our Wine Lover's Dream Sailing Route.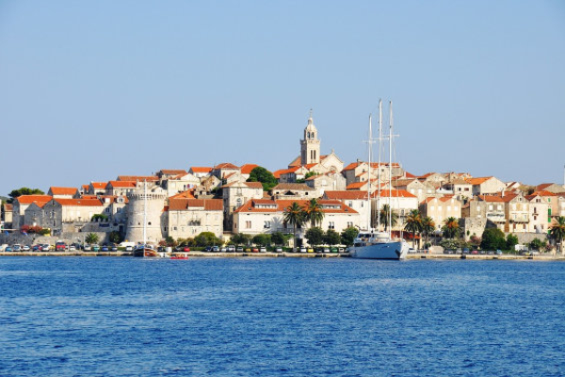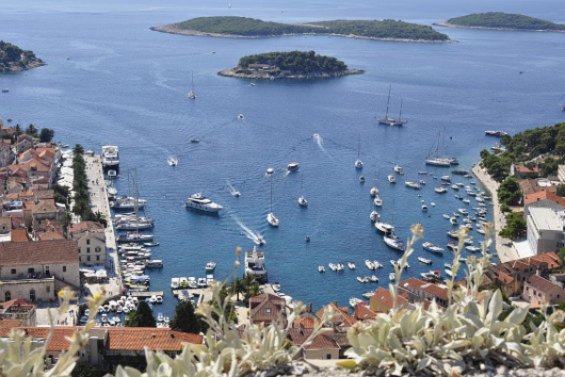 From Korčula, you will continue to make your way back to Split, stopping at the popular island of Hvar. The route is 32 nautical miles and takes you to one of the most scenic sailing routes in Croatia. When you arrive to Hvar, we recommend that you spend the night in the Marina Palmižana. The marina is located on a small outlying island. From there, you can easily reach the main island with the Waterrtaxi, which runs until 11pm. Alternatively, you can anchor in the bay of Vinogradišče or find other moorings and achorages in the Pakleni Islands off Hvar.
Hvar is known for three things both inside and outside of Croatia: wine, lavender and parties. Visit the numerous vineyards and olive groves while the scent of the lavender fields, rosemary and other herbs awakens your senses. There are also many family-friendly activities you can do such as visiting a farm or spending a day at the beach.
Day 6: Hvar to Stari Grad
It's a short sail to your next destination, Stari Grad, which is on the same island. You only have to travel 15 nautical miles, so you can completely relax this section of your trip. Stari Grad is located on the western coast in a long, funnel-shaped bay lined with forests on both sides. Here you can moor your yacht right in front of the town hall. Take a walk through the charming medieval city centre with its small streets, quaint shops and several taverns offering local cuisine. The city, unlike Hvar, is rather quiet. Enjoy the evening in the harbour with a good glass of the island's red wine.
For those who enjoy history and nature, visit the southern part of Stari Grad, which was declared a UNESCO World Cultural Heritage in 2008. Tour the vineyards, orchards and ancient Greek ruins on the plain before or after lounging on the beaches around Stari Grad.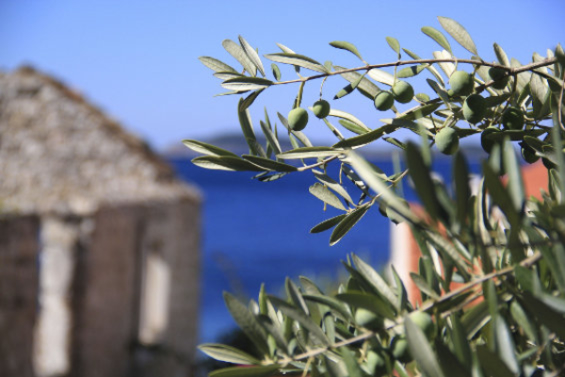 Day 7: Stari Grad to Split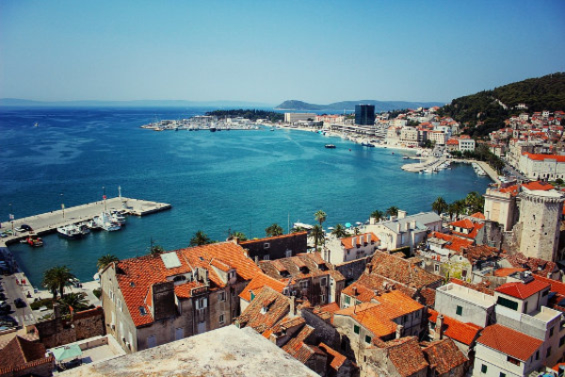 On the last day of your Croatian yacht charter holiday, you'll return to the marina in Split from Stari During. During the last 24 miles of your journey, you'll have the opportunity to take in stunning views of the Dalmatian coast as you sail past Brač and the mainland. Perhaps you will want to stop in one of the small fishing villages or coves for a quick break before your journey back to Split.
Having arrived in Split, we recommend you end your sailing holiday with a superb dinner. In "Dvor" you can taste the finest seafood while enjoying a wonderful view of the sea or dine on fresh seafood at Konoba Nikola in Stobrec, which is famed for its fish specialities.
For tips on what to do and see in Split, check out our travel guide.